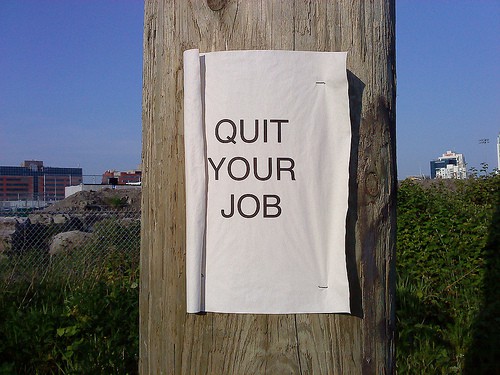 The Cult of Courage
The rhetoric surrounding career advice is saturated with calls for "courage." Here are a few representative quotes I grabbed at random from the web:
"[S]ensational and successful entrepreneurs…had the courage to pursue what makes their heart sing."
"As we move out of our comfort zones towards either accomplishing new things or approaching new levels of greatness, it's normal to lack courage…"
"A great deal of talent is lost to the world for want of a little courage."
"In our day-to-day lives, the virtue of courage doesn't receive much attention…Instead of setting your own goals, making plans to achieve them, and going after them with gusto, you play it safe. Keep working at the stable job, even though it doesn't fulfill you."
The storyline told by such quotes is simple: You know what career decisions would leave you happy and fulfilled, but "society" and "your family" are fearful, dull, stupid, and devoid of useful wisdom, and will therefore try to scare you out of following this good path. You must, therefore, build the courage to overcome their fear-mongering so you can live happily ever after.
The influence of this narrative, and the broader courage culture (as I named it in SO GOOD) that supports it, provides me a ceaseless source of annoyance. Given that it's graduation season, and the topic of career happiness is therefore relevant, I thought I'd offer a few thoughts about why this trope irks me so much, and why you should treat it with caution.
Three Problems with the Courage Culture
Here are my main issues with the ideas promoted by the courage culture…
First, it's narcissistic. The courage culture sets up a narrative where you are the noble warrior resisting overwhelming efforts to coerce you into conformity. It supports an almost conspiratorial worldview where unnamed forces are massed against your efforts to do something great.
The reality, of course, is that you're not Frodo, and there's no occupational Sauron to evade. No one cares what you do for a living. They care only about what tangible value you offer the world.
Second, remarkable accomplishments are hard, not scary. Almost without exception, building a remarkable career requires that you become remarkably good at something valuable. This requires time and is hard. But it's not particularly scary. By the time most people are skilled enough to do something remarkable, the decision can seem more obvious than fear-inducing.
Consider, for example, the founding of Apple Computer. Steve Jobs took the plunge into starting the company because Paul Terrell placed a six-digit order for Wozniak's remarkable Apple 1. When someone offers you hundreds of thousands of dollars for a product you designed in your spare time, you don't need courage to start a company, you need, instead, the will to bust your ass (which is exactly what Jobs did).
Stephen King provides another good example. He wrote in his spare time since he was a boy. He didn't quite his job to write full time, however, until after he sold the paperback rights to Carrie for $400,000. To quit a job that was paying him one-twentieth of that amount was an act of reasonable accounting, not courage.
Third, it's insulting to people who know more than you about life. The idea that society, and, more specifically, your parents and community, are steering you toward unhappiness because of their stupidity and irrational fear of uncertainty, discounts the fact that their advice is drawn from many years of experience. They've lived longer than you. They've been through different careers. They've watched friends try different things. (If you're an echo-boomer, they've probably watched friends try wild, outlandish things.) They have, in other words, many hard won data points to pull from when they offer their thoughts.
It's possible, in other words, that your parents are discouraging you from quitting your job to start a blog business because it's a bad idea — not because they're myopic and meek.
Bottom Line
The courage culture paints a tempting picture of how people end up with remarkable lives. It tells a story where you're the main character, fighting evil forces, and ultimately triumphing after a brief but intense battle.
The reality is decidedly less exciting. Remarkable careers require that you become remarkably good. This takes time. But not necessarily a string of defiant rejections of some mysterious status quo.
(The brevity of the courage culture's recommendations are a big part of their appeal. It takes a few weeks of courage to quit your stable job to pursue something bold. Building a real skill, by contrast, takes a long time and is much less fun. We shouldn't be surprised that people prefer the abridged version of this particular story.)
For most people who aspire to a passionate working life, in other words, the key is not overcoming fear, but instead overcoming mediocrity.
(Photo by Kevin Krebs)