Peer Pressure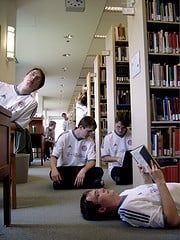 In the summer of 2000, a Dartmouth economist named Bruce Sacerdote published a paper titled Peer Effects in Randomly Assigned Roommates. His premise was interesting: Incoming students at Dartmouth are assigned to rooms at random. He knew, therefore, that when two roommates first arrive on campus, their behavior should have no more in common than any other pair of students.
Sacerdote's insight was to wait until the end of the year and then look for traits that roommates had become more likely to share than random pairs. The idea was that these shared traits would be due to the roommates' influence on each others' behavior.
Sacerdote found that for some behaviors, such as major choice, roommates didn't affect each other. But for one trait in particular, GPA, they had a lot in common. He attributed this finding to a simple idea: students' study habits are heavily influenced by their peers.
It's important that you recognize this reality, because these peer influences shape more than you might imagine about your own habits. Like a pair of behavioral blinders, carefully slipped into place without you noticing, peer influence may have prevented you from seeing a variety of radical strategies that could greatly simplify your student life.
In this post, I want to describe one such strategy…
The Definitive Guide to Acing Your Schedule
Studying for a class starts out as a crap-shoot. Until your first exam (and, more importantly, your first post-exam post-mortem) you have to take a random stab on how best to prepare.
Or do you?
One of the "laws" that emerges from peer-influenced study habit formation is that you must attack each course by yourself. Sure, you can bitch with other students in the same class, and maybe perform the occasional group study session, but in the end, it's you alone battling the mysterious forces of your professor and his capricious whims.
Here's the thing, it doesn't have to be this way. Consider the following simple strategy for improving your performance in given course:
Setup a separate chat with your professor, your TA, and a student who took the same course in a previous semester.
In each chat session, ask the same question:


If you were to write an advice guide about doing incredibly well in this class, what would the chapters be?
It takes around an hour to complete this exercise. But it's results are near magical. Gone is the guesswork about notetaking, reading, and how best to review. In its place is specific advice that is tuned to the specific challenge you face. You'd have to be a real slacker not to do well with this treasure map in hand.
Yet almost no student does this…
With this in mind, I hope the advice in this post serves two purposes. First, it's a great way to do better as a student; so try it. Second, and perhaps more important, it can act as a gateway that helps you move beyond the blinders of peer influence, and start seeking your own approach to mastering the college experience.
The most effective strategies for improving your student life are often also the simplest. You just need the ability to see them.
(Photo by jackbrodus)