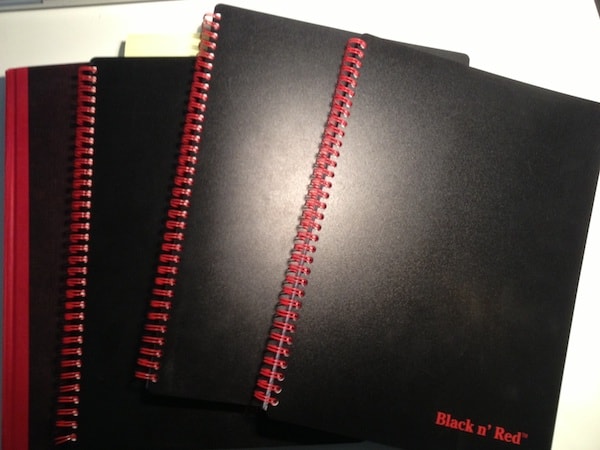 Deep Tracking
I'm obsessed with deep work. I believe it's the key to crafting a meaningful and interesting career. And yet, even I — Dr. Deep Work himself — sometimes struggle to fit enough of it into my weekly schedule.
I recently set out to find out why…
Fortunately, I have a good data set to use in this effort. As readers of STRAIGHT-A know, I believe in time blocking (if you don't plan every minute of your day in advance, your efficiency will plummet).
I use Black n' Red notebooks for this purpose, one page per day. As shown in the above picture, I hold on to my old notebooks so I can study my habits when needed.
I went back through the notebook I used during my fall semester and identified two weeks: one which was good (close to half my time was dedicated to deep work on research and writing), and one which was bad (less than a quarter of my time was dedicated to these efforts).
My goal was to understand the difference between these two weeks, and by doing so, hopefully identifying the scheduling traps most damaging to efforts toward depth.
(I recognize that even my bad week represents more deep work than most are able to fit into their schedule [I've been at this for a while], but what matters here is the relative difference in time, not the absolute values.)
A Tale of Two Weeks
Let's start with my good week. The below pie chart shows the percentage of time I dedicated to different types of work between Monday 10/21 and Friday 10/24: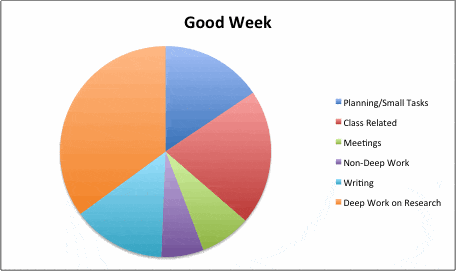 Academic deep work and writing provide around half the pie — a percentage that satisfies me. Not surprisingly, class related work takes up the next largest chunk, followed by a generic planning/small tasks bucket.
Now lets look at the chart for the bad week of 11/4 to 11/7, where I fit in less than half the total amount of deep work: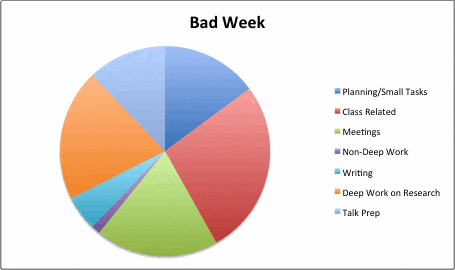 What's different about this week?
Two changes seem to matter. First, the time spent in meetings more than doubled from 3 to 7 total hours between the good and bad week. Second, I agreed to give a talk and needed to write and practice it during the bad week. This new talk prep category ate up an additional 4.5 hours. Because I cannot reduce by much the time I spend on teaching or small tasks, most of this new time came from the deep work category.
Conclusion
Here's the worldview this experiment helped cement in my mind…
Most knowledge workers have a collection of non-optional commitments that require roughly the same amount of time each week. These are the efforts we must do to keep our job. (For me, these include teaching and keeping up with small tasks, like answering e-mails from my colleagues.)
Their remaining time is dedicated to optional commitments — which we have flexibility in selecting (and avoiding).
Here's the key observation about this state of affairs:
Any time dedicated to deep work will come from the optional commitment pool. Every time you say "yes," therefore, you're also saying "no" to an equivalent amount of deep work.
In the moment, for example, it's easy to agree to a meeting, but the hour required by that meeting is an hour drawn from the same pool used for deep work. You've just reduced the amount of possible deep work that week by an hour.
Once you recognize this reality, it changes the way you think about your schedule. Your criteria for saying "yes" changes from "is this something I could do and might be interesting?", to "am I willing to give up this amount of deep work for this opportunity?"
As this experiment made clear to me, this is a subtle shift in thinking (though one that requires quite a bit of effort in execution), that can yield a massive impact on how much value you produce.
I have, accordingly, become increasingly cautious and circumspect about which optional commitments I allow into my schedule. If you're serious about deep work, you'll likely need to adopt a similar skepticism.