The Young and Exceptional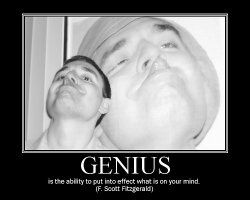 In a recent article for the Chronicle of Higher Education, professor Rachel Toor asks:
Who feels at home in a place like Yale, where your roommate has already published a novel and the person down the hall performed on Broadway?
This question captures a familar trope: top schools contain a small number of exceptional genius students with whom the rest of us mortals must compete. This idea strikes fear into heart of those approach the college admissions process and sows insecurity for those already on campus.
But is it based in reality? Are there really geniuses — teenagers publishing books and performing on Broadway — who have innate skills that blow away their peer's ability? And if it's not true, what danger do we face in keeping this myth alive? This essay tackles these questions.
The Tale of Two Superstars
To aid our discussion, let's introduce two students that seem to support the genius myth.
The first is a Stanford undergrad who we can call Mike. As Mike recently explained to me in an e-mail exchange, by the time he arrived on campus he had published four books, two of which were bestsellers.
The other student is author Christopher Paolini, who, at the age of 15 began writing the book Eragon which was eventually bought by Alfred Knopf for $250,000 and became both a New York Times bestseller and a big budget movie.
We can agree that Mike and Christopher are exactly the type of young superstars we have in mind when we think about the young genius myth. Four books by the age of 18? Writing a bestselling novel at 15? What else other than rare exceptional ability could explain such feats?
Mike's "Genius"
As it turns out, Mike would be embarrassed to be labeled a genius. In out brief conversation, he went out of his way to emphasize that what he had accomplished, in true Zen Valedictorian fashion, was actually easier than the brutal workloads of his high school classmates. The full story on Mike's books — the story you'd never get in the college press release — is that the books are computer manuals in a series written for and by teenagers. The "bestseller" status refers to a good day in the Amazon rankings.
What Mike should get credit for is boldness and discipline. As a 15-year-old attending a tech conference with his family, he fearlessly pitched the teen tech series to a group of publishing executives. When they turned him down he went ahead and wrote up sample chapters and sent them along. When they saw that this 15-year-old could write, they green lit the plan. Once the first book was complete, Mike stayed focus, pitching and writing three additional manuals.
Mike impresses the hell out of me because he not only has interesting ideas but he also acts on them; a rare combination for someone his age. He's a perfect example of the Steve Martin Method. But as he would readily admit, he possess no special genius ability that surpasses those of his classmates.
Christopher's "Genius"
But what about Christopher Paolini? His book was a mega bestseller and it was also a novel. He has to have a genius ability.
Let's dive deeper…
When you read through enough interviews with the young author, a consistent view emerges: he was trained, from a young age, like a Chinese Olympian, to become a young novelist. He was home schooled by his writer parents who ran their own publishing house. As Christopher recalls, his mother, a former Montessori teacher, supplemented standard textbook lessons with creativity-boosting exercises and a large amount of writing. After receiving at the age of 15 — through correspondence courses — the equivalent of a high school degree, Christopher, with the blessing and support of his parents, turned his full-time attention to writing his first novel. No college. No job. Just writing. The young man who grew up being groomed to become an author spent the next three years working on nothing else but realizing this dream.
Once he finished, his parents published the book through their own publishing house and Christopher hit the road; doing over 145 appearances — in full medieval regalia — to help promote the book and spread the word. It eventually came to the attention of Carl Hiaasen, who passed it along to his publisher, which, in turn, liked the book, saw the fan base Christopher had built, and, more importantly, saw how much money they were making with Harry Potter, and then bought the rights.
The resulting book isn't a great work of literature. In its review, The New York Times notes:
Paolini does not yet have the [strengths of classic fantasy authors]…He often slips into clichéd descriptions…and B-movie dialogue…The plot stumbles and jerks along, with gaps in logic and characters dropped, then suddenly remembered, or new ones invented at the last minute.
That being said, the story is gripping and authentic and caught the attention of the public at just the right moment when children fantasy was the rage — leading to a deserved bestseller status.
Once again, however, we don't find a natural, untouchable genius ability. Instead, we find a young man, groomed from a young age to write this book, who followed through on this plan over three hard years, and ended up, with a lot of luck and even more elbow grease producing a break out.
No magic ability lurks here.
The Young Genius Myth Debunked
My experience working with the country's most exceptional students has taught me that the genius myth is rarely justified. When you encounter a student who, when casually described, hits you as brilliant and beyond comparison with your own abilities, often, as with Mike and Chris, the following factors are in play:
The "genius" accomplishments, when investigated closely, are less exceptional than they were at first described.
The "genius" had been working toward his accomplishment for years, probably in an environment that afforded him insider connections and a detailed understanding of what exactly is necessary to make progress.
The Danger of the Genius Myth
The danger of the genius myth is that it unnecessarily muddles our discussions of student stress. When considering college admissions, for example, it helps no one to casually reference the "published authors" that you have to compete with. This deference to genius is a way to justify unhealthy behaviors — "I'm in 25 clubs because I have to keep with geniuses like Mike!" It also generates unnecessary insecurity, making you feel like your college acceptance was a mistake and that the work load is probably beyond your natural abilities. Finally, it helps foster the idea that intelligence and ability are "innate" traits. As Carol Dweck has shown again and again, adopting this mindset leads to much poorer academic performance and worse mental health.
Beyond Geniuses
Here's the reality: there are few — if any — geniuses in this world. When you hear about a student who blows your mind, assume you're not getting the full story. The key, as always, to standing out is to: keep a manageable workload, innovate, master a few things instead of juggling many, and use smart, efficient work habits. Don't stress over your lack of a magic ability because, as much as this might pain Eragon fans to hear, there is no magic: Just hard work, focus, a dash of innovation and a healthy dose of luck.
(Photo by midiman)