The Grade Whisperer is an occasional feature in which I use the Study Hacks philosophy of do less, do better, and know why, to help students overcome their academic problems.
Mike's Mixed Blessing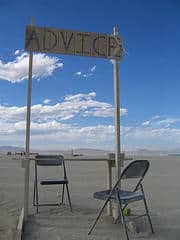 I recently received an e-mail from Mike, a pre-med major with an interesting problem. "I've read both of your books and have had unbelievable academic success ever since," he told me. "I've had two semesters of straight A's which include 5 A+'s and some of the most difficult pre-med classes such as physiology and biochemistry. "
This sounded good to me. But then came the catch:
"However, I realized that I've become somewhat of a grind during this miraculous transformation. The problem is, in college, there's literally always more work to do. "
With some hesitation, he asked: "Do you think maybe I'm using your methods incorrectly?"

An Avalanche of Notes
Mike's case is abnormal. The straight-A students I interviewed for the red book tended to study less than the average undergrad. So our friend Mike must be doing something different.
I asked him for more details, and he was happy to supply an example.
Consider the following slide, taken from Mike's biochemistry class: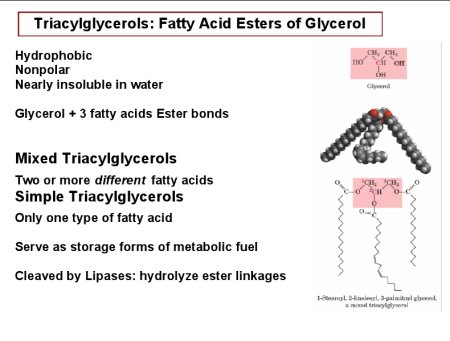 To study this information, Mike would use the focused cluster method. Specifically, he used a 3-ring binder. On on the right side would be a printout of the slide and on the left side he would write out his focused questions. For example, for the slide above, he wrote out the following:
Triacylglycerols are what kind of esters of what molecule? (answer in title of slide)
Describe their water affinity and polarity.
What are the two components of a triacylglycerol?
What kinds of bonds are in triacylglycerols?
Name 2 types of triacylglycerols and what is the difference?
What do triacylglycerols serve as?
What are triacylglycerols cleaved by?
What do lipases do? (be specific)
He could then review by trying to answer these questions out loud, without peeking. This sounds reasonable, until you begin to add up the hours.
"Each lecture contained anywhere from 40-55 of these dense slides," Mike reported. "The combined time for writing out the questions and learning them took 5 to 8 hours per lecture. With two of these lectures per week, the time really added up!"
Ten to sixteen hours of work per week per class does not sound sustainable. It's time for the Grade Whisperer to spring into action.
Simplify, Simplify, Simplify…
Mike's method are fine, but his execution is way too slow. Here was my advice:
Ditch the fancy binder. That's a time sink.
Instead, type up your question clusters in class as the professor lectures. Put them all in one big ass, ugly looking Word document, formatted as follows…

[Slide #]
question…
question…

Don't worry about being perfect, just get most of the stuff down during lecture.
To study, load up the slides on your laptop, and shoot through this Word document fast, clicking through to the appropriate slide when you need to look up an answer.
Next, you have to abandon your quest to learn every last fact from all slides from all classes. No one else in the class will do that, and you just have to do better than them on the exams.

Instead, set an arbitrary time limit. I suggest 2 hours for each lecture. In this time, try to learn as much of the material as possible. But stick to this limit. This will require that you haul ass, but I think you'll find that the pressure and knowledge that it will be over soon, will drive you to learn more than you thought possible in this period.
Finally, add a shadow course to your schedule and devote 2 hours per week of this time to review a random assortment of past lectures. This ensures that you won't forget too much of the material between now and the exam.
Mike Responds
Mike reported the following about the new strategy:
"I have to say, this is some solid advice."
"By writing up my questions during lecture, I save around 3 hours per week."
"A younger version of me would have been too afraid to write up questions during lecture, I would have feared missing details mentioned by the professor. But now that I really think about it, the majority of the details mentioned in lecture never even appeared on the exam. "
"I had this tendency to literally write down everything, but inevitably this means having to write up twice as many questions on the slides and therefore spending just unbelievable amounts of time to master every little detail."
The Important Points
Mike's case highlights a crucial point. There are minimal differences in the grades produced by obsessively trying to learn every possible detail and trying to efficiently capture and learn most stuff, fast. Yet, these two strategies induce huge differences in the quality of your life. Mike was literally drowning in information. By slightly reducing his standards, he realized that he could cut his study time at least in half — without affecting his grades.
The strategy I applied to Mike can be generalized as follows:
Ruthlessly cull every inefficiency from your study habits for the class. (For Mike, this meant getting rid of the fancy binders and printouts, and capturing the notes rough and dirty during lecture itself.)
Then constrain yourself with a reasonable but non-negotiable time limit. (For Mike, this was 2 hours per lecture for review.)
If you have a course demanding a ridiculous amount of your time, before you accuse the professor of sadism, consider applying a similar strategy.
(Photo by laughlin)