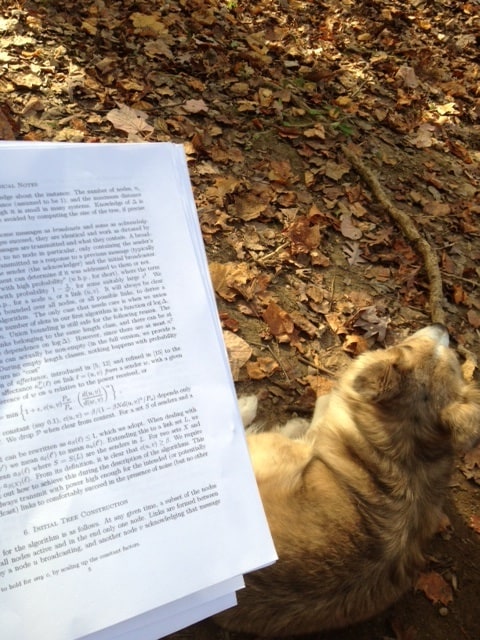 An Autumn Adventure
To help increase the attention I dedicate to literature-driven research projects, I've spent the last couple weeks immersing myself in a new area of my field. Today, for example, I thought the warm weather called for some adventure work. As shown above, I took some papers, a notebook, and my dog into the woods to grapple with some of these new ideas.
Here's the thing: this type of immersion can be frustrating.
I spent hours today doing intellectual battle with a set of formalisms that still largely confuse me. In the long run, I know this type of battle is crucial (past experience has shown that even just a few dozen hours of such grappling can lay the foundation for multiple publications). But in the short run, it leaves me feeling like I accomplished nothing concrete with my day. (An unfortunate corollary of intellectual immersion is that it doesn't work if you take time off to answer e-mails or do laundry — ensuring your to-do list remains untouched.)
So here we face a paradox. The very type of deep work that provides the nutriment for remarkable results also defies all our instincts for how a productive day should feel. I don't have a specific set of strategies to suggest here. Instead, I just want to point out that when it comes to our understanding of how to build towards something important in our working life, there is a lot that our current conversation about work — which focuses on themes like courage, passion and productivity — seems to be missing.