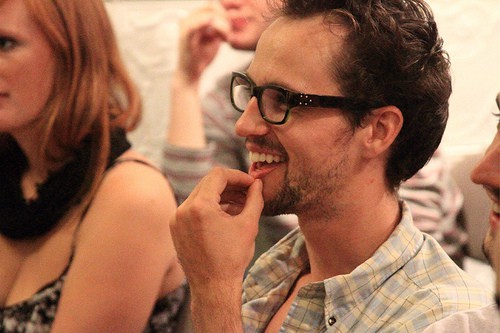 Major Doubts

"I'm enrolled to study computer science…a choice that was heavily influenced by my parents."
So began a recent e-mail — one of many I receive that echo the same theme.
"I think that if I continue on in computer science I might find a love for it eventually," the student said optimistically, before adding: "but a few days ago I saw that the university still has some open slots in the psychology program…"
The exams in this student's computer science courses were getting tougher, and she began to wonder if she had missed her true calling in another field, like psychology. In fact, once she started thinking about it, she began to increasingly convince herself that psychology had always sounded appealing.
I see this all the time: students who question whether or not they chose the right major.
Some students in this situation respond with action, switching concentrations, sometimes multiple times, in a fruitless search for the perfect fit. (As longtime Study Hacks readers know, I don't believe in the existence of a "right major," which dooms any such quest to failure.) Others grind through the difficult courses that populate the upperclassman years, experiencing the work as a penance for an irreversible choice, poorly made. In both cases, the results are no good: anxiety, burn out, and sometimes even deep procrastination.
One of the core ideas behind my Romantic Scholar approach to student life is that courses are not something to survive, but should instead be something to relish in and to engage you; what I call the "foundation of a life well-lived."
Interested in tested advice for building this relationship with your studies, I turned to an expert: Andrew Roberts, a professor of political science at Northwestern University. Professor Roberts has given a lot of thought to how students should approach the challenges of higher education. In fact, he recently published a book on these ideas: The Thinking Student's Guide to College: 75 Tips for Getting a Better Education.
I got Professor Roberts on the phone and asked him to share his advice for falling in love with your major. The goal we're interested in, I explained, is not just to enjoy our coursework, but to also become the type of star who gains access to fantastically interesting post-grad opportunities.
If you want to make the Romantic Scholar a reality in your student life, you should listen to what the good professor had to say…
The Roberts Method
Professor Roberts' method for falling in love with your major, and becoming a star in your department, can be summarized with four rules:
Rule #1: Do Less
Resist the urge to double major and join a dozen clubs. Focus on your one major and a small number of activities (if any) related to the major. Immerse yourself in the subject. You've heard me make this argument before, but Professor Roberts was quick to echo these sentiments from his perspective on the other side of the lecturn.
"Last weekend we were looking at Fulbright [Scholar] applications at a committee here," Roberts told me. "The ones that are fascinating are the ones that are deep, not the ones that are broad…the [applicants] that have totally gotten into this country, learned the language, visited it, learned everything they can about some topic [related to it]."
Rule #2: Synergize Courses

"When putting together a schedule," advises Roberts, "look for synergies between your classes…try to find two classes that cover the same topic from different angles." For example, you might take a course on the politics of Africa at the same time you take a course on the history of the continent.
There are two advantages to this approach. First, your life is easier as the classes will likely overlap in material, and you can draw from readings in one class to provide the research for papers in the other. (As an added bonus, "you will start looking very smart," as you began citing information from outside the syllabus.) Second, there's something intellectually satisfying about mastering a subject from different angles. It provides a feeling of competence and curiosity that helps you own the material.
Rule #3: Read Academic Blogs
A growing number of professors blog about their field. (You can find a list of such blogs, organized by subject, at the Academic Blog Wiki.) Some of these blogs are too technical to be too useful, but others provide an excellent sense of what type of research is going on right now and how it intersects with current events. In the field of computer science, for example, see Scott Aaronson's fantastic Shtetl-Optimized, which has a way of transforming the most esoteric of disciplines — quantum complexity theory — into a dynamic, relevant, pop culture-infused roller coaster ride through a land of big theorems and unexpected digressions.
Read these types of blogs.
"You get an unvarnished perspective from these blogs that you don't get from your reading and classes," said Roberts. "You learn what's right on the cutting edge, not [just the] standard works, or dumbed down standard works…you get this great perspective."
Rule #4: Go to Department Lectures
Most departments host a regular lecture series. All departments host occasional lectures from job candidates and visiting scholars. Some of these lectures are probably too specialized to be understood, but others, like the good academic blogs mentioned in Rule #3, can help expose you to real scholarship in your field and provide you renewed energy for your coursework.
If you're a computer science major at MIT, for example, you might pass on Ricky Rosen's upcoming talk on "A Strong Parallel Repetition Theorem for Projection Games on Expanders," but would find a lot useful in Rodney Brook's lecture on "Robots Working with People."
"I don't see very many undergraduates at the talks that we hold," Roberts told me. This, of course, is a missed opportunity, not only to engage the field, but to stand out. As Roberts notes, if you attend these talks, "you definitely signal yourself out to your faculty as someone special." Not to mention the signal you give yourself that you find this material important.
###
This post is the third in my series on the Romantic Scholar approach to student life, which details a collection of strategies to transform school from a trial to survive into the foundation of a life well-lived. Roughly every other post on Study Hacks in the near future will be dedicated to this series.
Past articles:
(Photo by uniondocs)