Advice, Advice, Everywhere…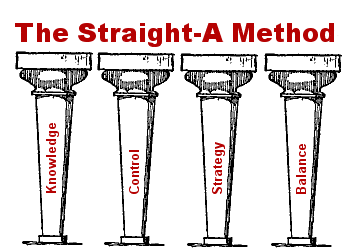 Students often ask me how they should sift through all the advice on this blog in order to implement a simple system that will work for them. Here's the truth: Almost all of the strategies I present here, and in my books, are motivated by a simple yet powerful underlying framework I call the Straight-A Method. This framework is based on four central pillars: knowledge, control, strategy, and balance. Each describes a high-level goal you should strive to maintain as a student. If you can satisfy these four goals — regardless of what specific strategies or systems you use — then you're all set. Your college experience will be outstanding.
In this post I describe the four pillars of the Straight-A Method. As you read, ask yourself what strategies or habits, if any, do you have in place for satisfying each goal.
Pillar #1: Knowledge
You must collect and regularly review all of your obligations as a student. This includes both the academic (e.g., test dates and assignment schedules) and the administrative (e.g., application deadlines and demands from extracurricular involvements). Taking stock of everything that is on your plate can be forbidding, but it is also crucial for maintaining control over your life.
Some past posts relevant to this pillar:
Pillar #2: Control
Control the hours in your day. Do not let them control you. Plan out, in advance, when you are going to work and what you are going to accomplish. Doing so builds an accurate understanding of your time — how much you have and how long things really take. This awareness is the foundation of low-stress, efficient scheduling.
Some past posts relevant to this pillar:
Pillar #3: Strategy
Never "study." The word is ambiguous and it's tied up with too many emotional connotations about what school work should feel like (tiring, boring, painful). Instead, think in terms of specific actions. Seek out and squash inefficiencies. Ruthlessly evaluate and tweak your techniques after the fact. Always be improving.
Some past posts relevant to this pillar:
Pillar #4: Balance
Above all else: stay happy. Otherwise, what's this all for? This means, among other things: Aggressively socialize. When in doubt about whether or not to attend an event: go. Don't be satisfied with a few good buddies, put in a serious effort to build a cadre of life-long friends. Engage your mind. Crave inspiration. Take on a grand project. Remember: College is a playground for your mind and spirit. Play hard.
Some past posts relevant to this pillar: