Eat Alone Twice a Day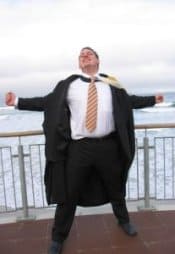 During busy periods: Choose one meal each day to eat with friends. Take your time with the experience. Catch-up. Relax. For the other two meals, however, eat alone and eat fast. Minimize the time wasted.
This sounds draconian. But, surprisingly, it will actually make your social life richer.
Allow me to explain…
The Work Momentum
Work requires focus. Once you enter a flow state, you can go for hours, knocking off one chunk after another. When you sit down for a social meal, on the other hand, two things happen. First, time is wasted. Typically, well over an hour will transpire from when you first head off to the dining hall until you head back to the books.
Second, and more important, your flow is demolished. Your mind switches from work mode back to relaxation mode. Even if you plan to diligently return to the library after your long lunch, your effort might be for naught. You've lost your momentum, and procrastination has gained the high-ground in the battle of work versus slack.
Focus Your Relaxation
Have breakfast alone. Your friends are too tired to be much company. If it's possible to get most of your work done in the morning, afternoon, and early evening, then have a quick working lunch to keep your momentum alive. Try to finish everything before dinner. Then, when you head down to the dining hall, you can fully relax. Invite your friends. Unwind. Your work is done. Time to kick off a night of socializing.
If, on the other hand, your day is jammed with classes and meetings, and you need to work at night, then make your lunch social. You don't need daytime momentum because you're attending appointments more than working. Kick-off your evening of productive work with a quick, energy-boosting, solo dinner. Hopefully, your leisurely lunch will stave of feelings off social withdraw.
Conclusion
A key to consistently getting things done is having a good set of mindless habits that you can automatically rely on to structure your work flow. This tip is simple, but it's effect is powerful. A little more separation between work and play can go a long way toward becoming an efficient academic.