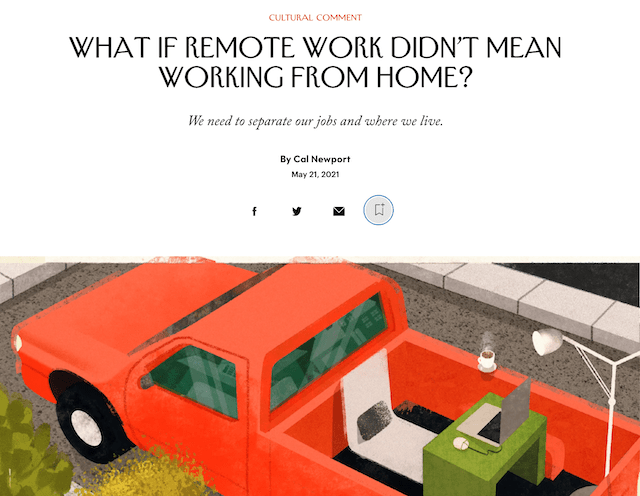 Peter Benchley wrote Jaws in the backroom of the Pennington Furnace Supply, a short walk from his home in Pennington, New Jersey. Though he lived in a bucolic converted carriage house situated on nearly an acre of land, he preferred writing amidst the clamor of this industrial hideaway .
He's not alone among authors in this retreat to an eccentric workspace near his home: Maya Angelou wrote in hotel rooms with all pictures removed from the walls; David McCullough toiled in a garden shed; John Steinbeck would bring a notebook and portable desk out on his fishing boat.
As I argue in my most recent essay for the New Yorker, published last week, these case studies are important to our current moment because, in some sense, writers are the original work-from-home knowledge workers. The fact, therefore, that they often go through so much trouble to avoid working in their actual homes might teach us something important about how to succeed with our post-pandemic shift toward permanently increased telecommuting. (Hint: perhaps subsidized work from near home needs to become a thing.)
I encourage you to read the full article to find out more about the lessons learned from these case studies (or, at the very least, to enjoy some gratuitous stories of the aspirational lives of famous authors).