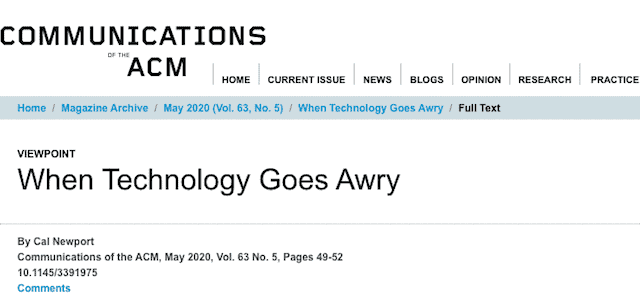 Last month, I published a peer-reviewed essay in the Communications of the ACM, one of the major trade journals in computer science. It's titled, "When Technology Goes Awry." At the time of its publication, in mid-April, there were a few other things going on in the world that were distracting me, so I didn't mention it then. I want to circle back now and briefly highlight the piece's big ideas, as they're relevant to many of our discussions here.
This article provides a more academic foundation to some of the themes I explore in Digital Minimalism. In it, I point out that during the 20th century the formal study of the philosophy of technology split into two roughly competing camps: technological determinism and technological instrumentalism.
As I elaborate:
"Roughly speaking, the former philosophy [determinism] believes the features and properties of a given technology can drive human behavior and culture in directions that are often unplanned and unforeseen, while the latter [instrumentalism] believes tools are neutral, and what matters in understanding their impact is the cultural context and motivations of the people that develop and use them for specific purposes."
In recent years, in academic circles, "the pendulum of power in the formal study of philosophy of technology…has swung in favor of the technological instrumentalists."
I've come to believe that this is an issue: "instrumentalism, though intellectually interesting and often quite illuminating, is ill-suited on its own to tackle some of the more pressing issues we face in our current moment of rapid technological innovation"
The problem?
As I've observed and reported in a lot of my recent writing, technologies often do have unexpected impacts that aren't intentional, or predicted, or serving some useful purpose (exhibit A: what happened when we introduced email into the business ecosystem).
It's important that we recognize this reality as a society, and that my fellow engineers, in particular, keep a wary eye on what happens when their tools are released into the wild. Human and tech exist into a highly dynamical symbiosis that requires more observation and intervention than we often realize.
Anyway, see the full article for a longer treatment of these ideas…