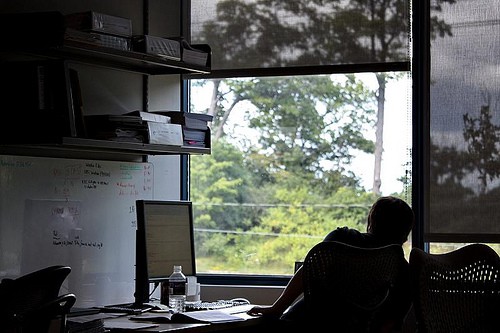 Rethinking the Laborious Slog

Supporters of the passion hypothesis assume that the key to enjoying your career is choosing the right type of work.
I've been arguing that there are many other (and often way more important) factors that help determine whether you end up loving your career.
What you do for a living, in other words, is just a small piece in the satisfaction puzzle.
A recent Fast Company article by 37 Signal's David Hansson (promoting his new co-authored book, REMOTE), provides a nice case study for my philosophy. Here's Hansson:
"[T]he problem isn't actually the work itself. It's the fight against the hostile environment surrounding the work that's the laborious slog…The fact is that most people like to work. Really work, that is. Engage their brain and their talents in the creation of value."
As the article then elaborates, the "hostile environment" causing people to be unhappy with their jobs includes factors such as long commutes, requirements to live near the company offices (even if you otherwise dislike the location), and hyper-distracting office cultures.
If you can minimize these environmental negatives (i.e., by promoting remote work agreements), Hansson notes, you can significantly increase peoples' happiness.
As career advice, "follow flexible work arrangements" sounds less sexy than "follow your passion," but Hansson reminds us that career satisfaction is not a particularly sexy pursuit, but is instead the outcome of many careful decisions about many subtle factors.
(Photo by The Other Dan)