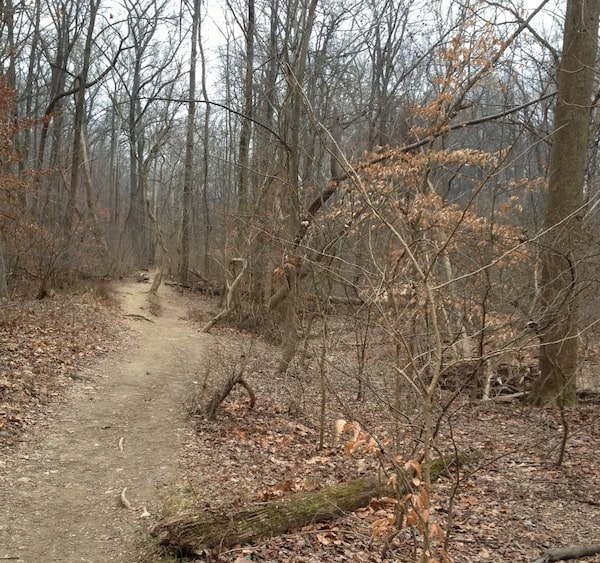 Outdoor Office
For a couple hours yesterday, the trails pictured above served as my office.
Earlier that morning, I was polishing a proof. In doing so, I needed to reference a pair of related papers. As I began reading these papers, I sensed a deep connection between these results and my own, but I couldn't quite articulate it.
In my experience, this type of connection making is well-served by three ingredients: quiet, movement, and time. So I left my building and hiked onto a network of trails that abuts the Georgetown campus.
I spent the next couple of hours walking and thinking, trying to arrange and re-arrange my understanding of these results. I'm hoping this impromptu line of thought might yield something new and significant, but it's too early at this point to tell.
More important for our purposes here, however, is the broader point this example underscores…
Quiet Creativity
When I talk about my purposefully disconnected life, a common retort is that I'm missing out on the creative possibilities born of the frequent exposure to new people and ideas delivered through social media and related technologies.
But here's the thing, for the most part, this is not how high-level creative work is accomplished. It's not, in other words, lack of input that stymies creative breakthroughs.
Take my own example: I don't use Facebook, Twitter, Google Plus, Linked In, Tumblr or Instagram, and I'm bad about e-mail, but I still have no shortage of ideas to work on.
(This is not surprising, even without these technologies, I'm still significantly more connected than most scientists and writers in most other times — and they had no problem coming up with big ideas.)
What does stands in the way of creative breakthroughs — I'm increasingly convinced — is lack of time spent walking quietly with your thoughts, working and re-working your understanding of a concept in search of new layers of meaning.
This is hard deep work. But it's also the foundation for ideas that matter.