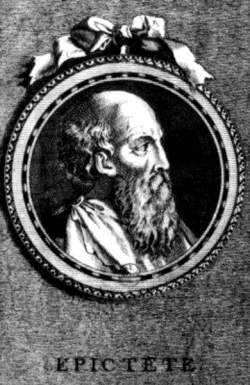 The New Year, of course, is celebrated as a time to commit to bold new ideas. American culture emphasizes this period because we valorize action.
(If you doubt this attitude, watch an episode of ABC's Shark Tank, a show in which a cattle call of budding entrepreneurs are invariably praised for their courage, even though most put their family into massive debt to produce an ill-fated injection molded trinket.)
I find it useful during this giddy season to remember that an emphasis on getting started, though currently popular, is not timeless.
Case in point, my friend Dale Davidson recently sent me a smart quote on this subject from the first century stoic philosopher, Epictetus:
In every affair consider what precedes and follows, and then undertake it. Otherwise you will begin with spirit; but not having thought of the consequences, when some of them appear you will shamefully desist.
Epictetus doesn't reject action. But he believes commitment to a pursuit must be preceded by the careful study of what is actually required for success.
He uses the Olympic games as an example. He notes that participating in the event seems glamorous on the surface, but a closer examination of what this requires reveals that you must:
…conform to rules, submit to a diet, refrain from dainties; exercise your body, whether you choose it or not, at a stated hour, in heat and cold; you must drink no cold water, nor sometimes even wine.
For most budding ancient athletes, Epictetus implies, this reality would likely dim the glamor of pursuing the Olympics. But not for everyone. As he then concludes:
When you have evaluated all this, if your inclination still holds, then go to war [emphasis mine].
I like this decision-making framework.
When considering a major endeavor, Epictetus teaches, first master its reality. This requires that you put aside your vision of how a pursuit should unfold, and embrace the reality of what's actually required to succeed (a surprisingly difficult, and often sobering endeavor).
Most ideas subject to such scrutiny will end up discarded.
To Epictetus, that's fine.
What matters is that when you come across that rare pursuit for which your inclination still holds — even after a thorough examination — you "go to war."