Starting Fresh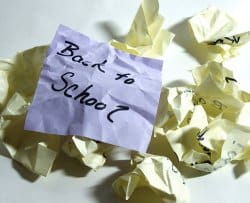 The new school year has begun. These first few weeks are a time of heady possibility: exams haven't yet sucked your will to live; conflicting paper deadlines haven't yet made you curse the invention of written language.
I want you to take advantage of these golden days by committing to try some new and exciting things this semester. Make these resolutions now, before life gets too tough. To help you in these efforts I've listed seven suggestions for things you should try — five you've seen before and two are brand new. Now is the time to upgrade your college career. Take action while you still can.
Five Things You've Meant to Try But Haven't Yet
Adventure Studying
Just because everyone else studies in the library doesn't mean you have to as well. The adventure studying philosophy says you should decamp to the most exotic possible places — from the beach, to the forest, to art museums. (See also this case study of adventure studying in action.)
Launching a Grand Project
Are you working on something so compelling that when you describe it to people they exclaim: "wow!" If not, you should be. Not only does it keep life exciting, but it will help unlock outstanding opportunities down the line.
Calculating Your Churn Rate
If you're the type that has lots of big ideas but not lots of accomplishments, then you need to rethink how you measure productivity. Forget endless lists of small tasks, and focus instead on your churn rate, a metric that captures the speed with which you actually complete projects.
Fixing Your Schedule in Advance
The concept is simple. Fix the number of hours you want to work, then move backwards from there to construct a lifestyle that matches this goal. It might require drastic cuts to your schedule. Your double major might go out the window as might most of your activities. You might start saying "no" a lot more than before. But you'll be in control of your own life and live the lifestyle you want to live, not what was forced upon you.
Seeking Randomness
Entrepreneur, writer, blogger, NPR commentator and college sophomore Ben Casnocha has a simple rule for launching an interesting student career: seek out randomness. Lots of it. If you schedule every minute of your day you're going to miss out on the opportunities that really catch people's attention.
Two New Things to Add to Your List
Travel Somewhere Alone
It's a crazy idea. Get on a train. Go to a new city. Spend a couple days by yourself. Wander the streets, think big thoughts, figure out your life, maybe even get some real concentrated studying done. We're so busy we often forget to take time to reflect. Do so while you still have the flexibility to get away.
Sign-up for a PE Course
There's something therapeutic about working your muscles, in the company of other people, two or three times a week. It burns away stress and clears the mind. Joining a PE class is a simple way to hold yourself accountable to this goal. For me, at Dartmouth, it was raquetball. For others its basketball or tennis. Whatever seems like fun; just get yourself out of your dorm and to the gym on a regular basis.