The New Season Begins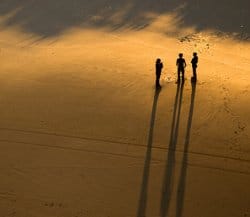 Last fall I launched an experiment dubbed College Chronicles. It was a "blog-based reality show" that followed three students struggling to overhaul their study habits. You met Leena, the exhausted MIT student, Welton, the over-committed Harvard junior, and Jake, the Tufts rugby player looking to walk that fine line between frat-boy debauchery and academic excellence.
As I announced a few weeks ago, this fall will feature a new season of College Chronicles. This time, we'll be focusing on three students who want to embrace the Zen Valedictorian lifestyle.
Thirty of you answered my call for volunteers. Whittling this down to a final group of three was tough; but I think I've arrived at cast that will provide us a semester's worth of insight and entertainment.
But enough promotion. Today we begin by introducing you to the first of our three students…

Meet Marina
"I remember pulling an all-nighter in the library with a bunch of friends," says Marina, recalling last spring. "[I remember] leaving for an hour to go to a meeting, coming back, phone conferencing with my sister [to discuss my paper], sleeping for 2 hours, putting the finishing touches on my paper, walking back to my room…finding a huge half-dead roach wiggling on the floor of my room, printing my paper, going to breakfast, pouring hot sauce on an omelet, poking at it with my fork and thinking, 'This is NOT my life!'"
Marina is a rising sophomore at an elite northeastern liberal arts college. Her first semester as a freshman taught her a lesson about the difficulty of college-level academics.
"I remember the moment when I realized I was way in over my head academically," she recalls.
"I'd just gotten my first papers back and had gotten B's on both of them, despite having spent a reasonable amount of time on both of them. I'd also just gotten a grade too bad to print on my first math midterm because I'd had a huge panic attack during the test and hadn't written anything for most of it."
Marina's second semester started with the concern that she wasn't involved in enough activities, so she "signed up for a bunch of groups," joined a club sport, and started up a woman's shelter.
"I was pretty good about attending meetings at first, then proceeded to spend the rest of the semester feeling guilty for sporadic meeting attendance."
The combination of her academic challenges coupled with her growing extracurricular soon became a drag. To put it simply: Marina's ready for a change.
Marina's Plan
At the top of her Zen plans for the new term: underscheduling. "I am not making any set-in-stone commitments this semester," she promises. "Except for my club sport and volunteering at a women's or family interest non-profit."
On the academic front, she's seeking more simplicity by embracing some of the strategies familar to Study Hacks readers. Among them, the student work day and studying using the quiz-and-recall method.
In terms of innovation, she's has her eye set on the women's interest non-profit as the insider world in which to start her path toward impressiveness. As we've discussed before, the most innovative accomplishments start with paying your dues in a world you enjoy, then, later, leveraging this access into something inexplicable. It seems like Marina will be taking the first step in that direction this semester.
Cal's Commentary
Marina has certainly embraced some of the key ideas of the Zen Valedictorian philosophy. She's simplifying her activity schedule and looking to make her studying more efficient.
From my experience, the hardest challenge of the near future will be helping Marina find peace with simplicity. Many undergraduates panic when they feel like their schedule isn't filled with "enough" activities or work. I think she's setup perfectly to launch an impressive, relaxed, Zen-style life. It'll be interesting to observe how rocky this transition actually proves to be.
Stay tuned…
(Photo by peasap)