The Writing Life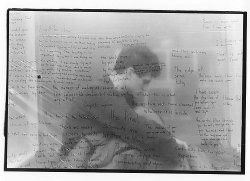 As most first-time authors will admit, writing a book can be daunting. The scale is so massive that it cannot be thought of as a single task; it's not something that could be completed in one big gnarly push. At first, this induces panic. But as the process continues, the author falls into a more comfortable job-like routine. Day after day, he returns to the manuscript — a little editing here, a little research there — and soon loses touch with the big, scary, massive concept known as "writing a book."
Months pass.
Then one day, a deadline arrives, and the author steps back to see the results of his longterm efforts; something that looks, strangely enough, quite a bit like a real book. There is no hard finish point. He could keep tweaking or editing or polishing ad infinitum, and he probably secretly wants to. But the deadline seems as good a place as any to stop, and the current draft gets sent off.
This probably sounds nothing like the frenzied last minute pushes that define your own stressful student paper writing adventures, which is exactly why I'm telling you about it. For, you see, this post presents a simple yet outlandish idea: You should consider writing your student papers like authors write massive books.
As always, allow me to explain…
The Paperback Writer Method
To write a student paper like a book means the following:
Start work on the paper immediately.
Make progress in small batches: 1 – 2 hours at a time, on at least 2 – 3 days out of each week.
Finish a full draft of the paper well before the deadline. (It's okay if these are really terrible, you'll knock it into shape over time.)
Keep tweaking and editing and polishing, in little batches, until the deadline arrives.
Spend a lot of this time not just writing, but also thinking — thinking hard about what you're saying, why you're saying it, and what would be better to say instead.
I started following this method in the spring of my senior year. Not surprisingly, this was the first semester after I finished writing my first (paperback) book. It changed my student life.
Let's explore why…
Living the Paperback Writer Lifestyle
Here's the thing about this method: it requires more hours than doing the work in one long push right before the deadline. I admit this. But at the same time this work is a lot less painful. Like the professional author, it's not about the big scary capital-P "Paper." It is, instead, about little daily pushes.
The biggest advantage, of course, is that the papers it produces are significantly better than those written the day before. If you use the paperback writer method — and take it seriously, especially the part about putting aside time to think — you'll score an 'A' on every single paper.
The alert reader might wonder how this method fits with my existing paper advice; e.g., flat outlines and the three-pass editing method. Think of these strategies as weapons in the arsenal of the paperback writer practitioner. As you work in small batches over a long period of time, you can use, for example, a flat outline to organize your thoughts and the three editing types of the three-pass method to keep sections tamed.
A Simple Experiment
I know this method is asking a lot, and it might not fit with all types of student personalities. But if something about this pain-free approach resonates, let me invite you to try a simple experiment. Take one paper — a small one — and apply this method. Go from assignment to submission without ever working more than an hour or two at at time. Hand in a manuscript that you thought about and tweaked and polished for weeks. Experience the reaction you get from the professor.
If you get this far, I have a suspicion that, like me, you'll never look at paper writing the same way again.
(Photo by jefield)