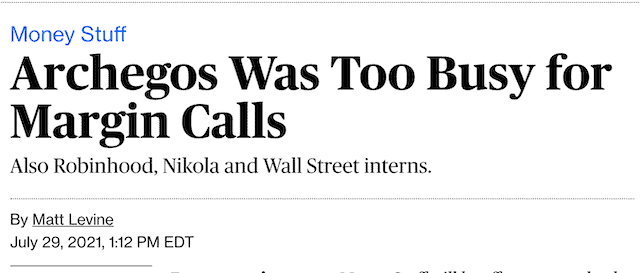 Last winter, a risk analyst at Credit Suisse noticed that one of their clients, a hedge fund named Archegos, was light on collateral. As is common in this world of high finance, Credit Suisse had loaned Archegos money to buy stock. The value of Archegos's position had come down and the bank's models were saying that the bank either needed more collateral from the fund, or needed to push Archegos out of their position by calling in the loan.
So far, pretty normal stuff.
As detailed in a report on the incident, compiled by the law firm of Paul, Weiss, Rifkind, Wharton & Garrison LP, and released last month, the issue was what happened next.
The analyst at Credit Suisse and the accounting manager at Archegos fell into a communication rhythm all too common in our current age of the hyperactive hive mind. The analyst asked to setup a meeting with the manager. The manager replied, in effect, "I'm busy, let's try tomorrow." The next day, he said to just send over a proposal. A week and a half pass before the analyst asks for "thoughts" on the proposal. The manager said "he hadn't had a chance to look at it yet" but would try to get into it "today or tomorrow."
Then the stock prices fell more. Archegos's position collapsed. Without the extra collateral, Credit Suisse lost $5.5 billion.
As Bloomberg's Matt Levine explains in a recent column on the debacle, what makes this case intriguing is that there is not "some fancy finance thing that went wrong," nor is it a story of "individual stupidity or greed or recklessness." As he summarizes:
"It's just that they sort of kept each other in the loop as a substitute for actually doing anything. The processes were all moving along nicely, which gave everyone a false sense of security that they would produce the right result."
I couldn't think of a better case study for the illusory, performative pseudo-value generated by the hyperactive hive mind. The players in this story were for sure feeling very productive: furiously typing on devices, messages moving back and forth, bases being touched, plates spun, their industry palpable.
But the actual activity that mattered, the realization that they were short on collateral and urgently needed to reduce their investment exposure, was missed. Ad hoc, back-and-forth, unscheduled messaging kept everyone busy. But it didn't actually work.