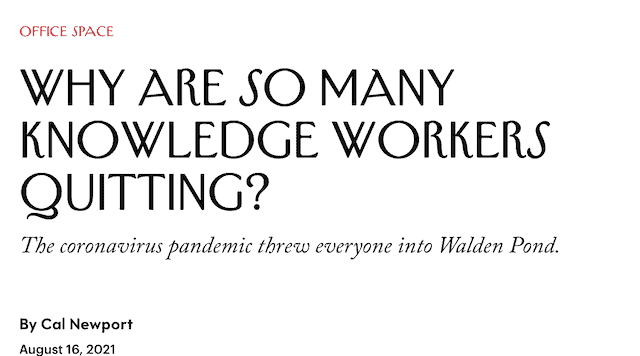 Earlier this summer, the Labor Department released a report that included a shocking statistic: close to 4 million people had quit or resigned in April. These numbers remained high in the spring months that followed. The business press began calling this workplace exodus the "Great Resignation."
In my latest essay for the New Yorker, published earlier this week, I took a closer look at this trend. There are many different factors powering the Great Resignation, and it impacts many different demographics. Amidst this complexity there was one thread in particular that I pulled: highly-educated knowledge workers leaving their jobs not because the pandemic presented obstacles, but because it instead nudged them to rethink the role of work in their lives.
As I elaborate in the piece, I was able to find insight for this "career downsizing" trend in one of my favorite works of American philosophy, Thoreau's Walden. This book is often misunderstood as an ode to simplicity and the beauty of nature. As I explain briefly in my essay, and in more detail in Digital Minimalism, it actually proposes a radical economic theory that demands that the value of existence be weighed against inanimate acquisitions — a rebalancing aided by disruption of the type Thoreau induced when he temporarily relocated to the woods outside his home town.
This trend toward career downsizing, in other words, may be explained in part by an entire class of workers being unexpectedly thrown into a "Zoom-equipped Walden Pond."
I encourage you to read the entire essay if the topic interests you. But at the very least, as the Great Resignation either unfolds or resolves in the months ahead, this is a subplot worth monitoring.
#####
Addendum…
My new essay mentions my friend Brad Stulberg's new book, The Practice of Groundedness, which I praise as follows on the book jacket: "A crucial alternative for those of us exhausted by soulless exhortations to crush it, and looking for a deeper approach to building a successful life."
The book comes out September 7th. Click here to find out more about the book and the preorder bonuses Brad is offering those who order it early.