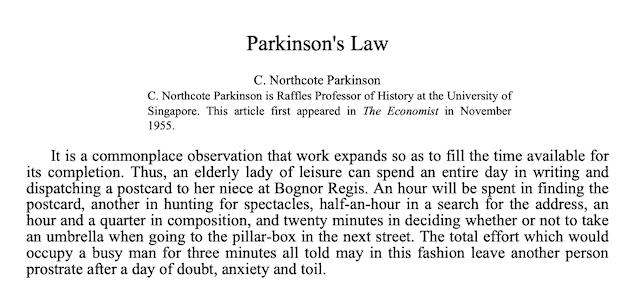 I first came across Parkinson's Law in Tim Ferriss's 2007 book, The 4 Hour Workweek. Ferriss summarized it as follows:
"Parkinson's Law dictates that a task will swell in (perceived) importance and complexity in relation to the time allotted for its completion. It is the magic of the imminent deadline. If I give you 24 hours to complete a project, the time pressure forces you to focus on execution, and you have no choice but to do only the bare essentials."
Ferriss suggests that you should therefore schedule work with "very short and clear deadlines," arguing that this will greatly reduce the time required to make progress on important tasks.
This advice is sound. After reading Ferriss's book, I began to work backwards from a constrained schedule — forcing  my professional efforts to fit within these tight confines. As predicted by Parkinson's Law, these restrictions don't seem to decrease the quantity of projects on which I make progress. If anything, I seem to get more done than many  who work more hours.
This is all prelude to me noting that I have fond feelings for Parkinson's Law. Which is why I was so surprised when recently, as part of the research for my latest New Yorker essay, I revisited the original 1955 Economist article that introduced the concept and found a whole other layer of meaning that I had previously missed.
Parkinson opens his essay with the pronouncement highlighted by Ferriss: "It is a commonplace observation that work expands so as to fill the time available for its completion."
Parkinson then provides statistical evidence for this phenomenon, showing that the British naval bureaucracy grew even as the navy it served shrunk after WWI.  He details an explanation for this counterproductive behavior that culminates in (satirically) precise mathematical formulas, e.g.,:

The details of his explanation are less important than its general implication: in the absence of strict direction, work systems can self-regulate in unusual ways. The British bureaucracies Parkinson studied grew according to internal dynamics that had little to do with the work they were meant to execute. They became their own beings with their own objectives.
Ferriss popularized the personal version of Parkinson's Law, which correctly notes that our work expands to fill the time we give it. The original Economist essay on the topic also embeds an organizational version of the law, which I read to say that if you leave a group, or a team, or a company to operate without sufficient structure, they may converge toward unexpected and unproductive behaviors. Indeed, the hyperactive hive mind I popularized in A World Without Email can be seen as a 21st century instantiation of  the organizational variant of Parkinson's Law.
The mark of a good polemic is the ability for its readers to extract multiple layers of productive meaning. By this measure, we must admit, Parkinson wrote one hell of an essay.