Epictetus: Student Success Guru…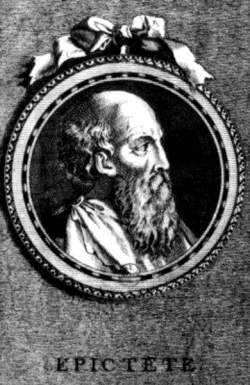 I'm intrigued by a second century Greek philosopher named Epictetus. He was a stoic. This means, roughly, that he believed the key to a good life is focusing on what you can control, not lamenting about what you cannot.
In other words: A stoic doesn't sweat bad stuff happening. His concern is how he behaves when the going gets tough.
Because I'm weird, I recently skimmed two different translations of Epictetus's The Enchiridion: a handbook describing 52 life lessons. There was one lesson in particular — lesson 29 — that caught my attention. It provides a piercing analysis of an issue that we discuss often on this blog: should you focus on a small number of things or experiment with many?
Here is what Epictetus had to say:
In every affair consider what precedes and follows, and then undertake it. Otherwise you will begin with spirit; but not having thought of the consequences, when some of them appear you will shamefully desist.
In other words, think carefully before adding a new commitment. Otherwise, your initial energy is likely to flag. Something he calls "shameful."

He continues:
Otherwise, take notice, you will behave like children who sometimes play like wrestlers, sometimes gladiators, sometimes blow a trumpet, and sometimes act a tragedy when they have seen and admired these shows. Thus you too will be at one time a wrestler, at another a gladiator, now a philosopher, then an orator; but with your whole soul, nothing at all.
In case his point is unclear, he gets a little cruder:
Like an ape, you mimic all you see, and one thing after another is sure to please you, but is out of favor as soon as it becomes familiar.
It's amazing how familar this sounds to the modern ear. How often have we grappled with interests that become boring once the initial zeal wears off.
He concludes:
[D]on't, like children, be one while a philosopher, then a publican, then an orator, and then one of Caesar's officers. These things are not consistent. You must be one man, either good or bad.
Here lies his zinger: "You must be one man."
To a stoic, like Epictetus, focusing your attention on one thing that aligns with your talents is not about maximizing your impact, it's a moral imperative. Being ambiguous, be it in your virtues or your pursuits, is a recipe for disaster.
A stoic demands stability. A stoic believes this stability — a laser-like confidence in what's important — will guide him safely through life's unexpected kicks to the metaphorical groin. Personal pursuits aren't exempt from this equation.
This is strong stuff. I love how much the issues of two millenia past resonate with our own discussions. Replace "philosopher," "publican," "orator," and "Ceaser's officers" with "national honors society member," "leader of cultural affinity club," "student researcher," and "member of student government," and Epictetus's quotes would be at home in one of my focus screeds.
I'm still trying to find out, however, how I feel about Epictetus's particular stoic take on this issue.
Here are the two questions that pop to mind:
Is it really our soul's optimal state to be aligned in one pursuit that we've really considered?
Or is Epictetus's old fashioned thinking missing the benefits that come from keeping many brands in the fire, and hopping from interest to interest in search of the fresh and inspiring?
What do you think?
Related Articles