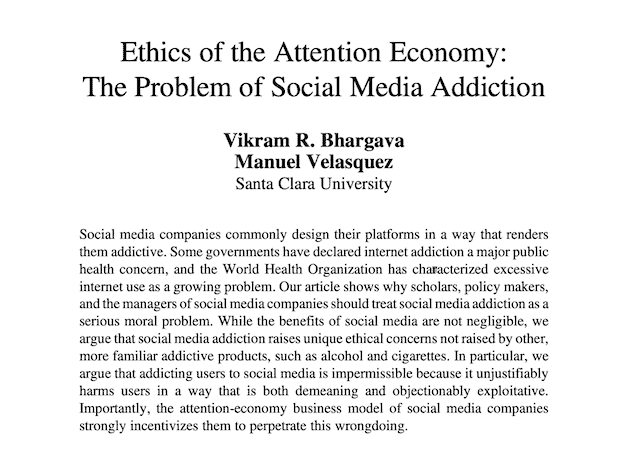 I recently read an important new article titled "Ethics of the Attention Economy: The Problem of Social Media Addiction." It was written by  Vikram Bhargava and Manuel Velasquez, two professors from Santa Clara University, and published earlier this fall in the journal Business Ethics Quarterly.
The article applies a rigorous ethical analysis to purposefully addictive social media platforms. In one section, for example, the authors deploy Martha Nussbaum's influential capabilities approach to demonstrate that these platforms impair many of the elements required for a dignified human life. Their conclusion is that from a strictly philosophical perspective, service like Facebook, Twitter and Instagram present a "serious moral problem."
This article is an important academic adjunct to the topics explored in the recent Netflix documentary, The Social Dilemma, and I highly recommend reading it.
I was also, however, intrigued by the concluding section, which explored implications and solutions (and cited Digital Minimalism, which I appreciated). This got me thinking about more radical responses to these present moral problems. I thought it might be fun to share one such,  admittedly half-baked, notion here, with advance apologies to the originators of the many similar ideas I'm almost certainly inadvertently overlapping.
What if we got more serious about ceding users ownership over all of their social internet data: both what they've posted, but also their links; followers, friends, etc.?
Major legislative responses, such as the European Union's GDPR, have tried to enforce data ownership, but what I have in mind is both simpler and more extreme.
In my hypothetical scheme, everyone has a cross-platform universal identifier. Every stable social connection on a given service can be imagined as a labelled edge in a social graph that contains a node for every universal identifier.
The key in this scheme is that these edges are owned by the user and must be easily portable to any service.
If, for example, you join a new social internet platform, you should be able, with a click of a button, to import all of your existing social connections from Facebook, Instagram, and Twitter .
Furthermore — and here's where the proposal gets more fanciful — all such services must provide APIs that make it easy for one to connect to another. The new social internet service you joined, for example, should be able to easily pull in all new Tweets you would have seen in your Twitter timeline, or all photos your Instagram friends have recently posted. (For more on some fledgling attempts at such standards, see my New Yorker piece on the "indie social media" movement.)
As argued in the Business Ethics Quarterly article cited above, one of the major moral issues with existing social media platforms is their ability to trap you in their walled garden, at which point they can, without restraint, wield attention engineering to exploit every last morsel of monetizable attention or data from your distracted husk of a digital body. You can't leave the walled garden, because everything you care about is locked inside.
But in a scheme like the one proposed here, the locks are opened. If you don't like Twitter's addictive interface, or the outrage-inducing Tweets its algorithms push into your timeline, you can jump over to another service that doesn't try to addict you; perhaps one that charges a modest subscription fee and instead curates a timeline of "deep thoughts" on selected topics, or shows you only the best or most originally twisted comedic memes of the day.
If we want to follow this train of thought to its radical but rational terminus, one might even imagine a publicly-funded technology consortium that stores all social links and all data posted or received on this social graph. In this scenario, every service works with the same public database, forcing them to compete only on the experience and value they bring to their users.
When you're not trapped in the garden, in other words, you're not compelled to put up with abuse.
To be fair, I can already think of a dozen issues with this particular, admittedly sketchy proposal. But there's a broader point lurking underneath that I feel stronger about. Too many of the "solutions" proposed for the moral calamities induced by existing social media platforms focus on directly forcing those platforms to behave better.
But if we owned our social internet destiny, we wouldn't need Facebook, or Twitter, or Instagram, or (God forbid) Tik Tok,  to behave better. We could just turn to an easily accessible, better alternative.