Note (11/24/09): I'm leaving this afternoon for a Thanksgiving road trip. I'll be slow to moderate comments and answer e-mail for the next week. I'm up to Nov. 10 in my reader e-mail queue. If you sent me an e-mail after that date, you haven't been forgotten, and I'll get to you as soon as I can.
Problems with Passion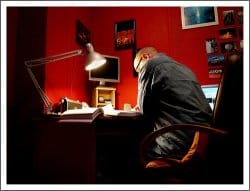 My friend Scott Young recently published a blog post with an intriguing title: "What if you have more than one passion?" He reports that several readers admitted that they have "a hard time focusing" because they have "too many passions."
My readers report their own problems with passion. Here are some excerpts from recent e-mails:
"I'm currently feeling great antipathy for physics…I've found myself questioning my passion for the subject. "
"My only true passion is biology, but it's a damn big field in which I have no focus other than my general spiritual love for green things."
"Yes, this particular major isn't my passion. However, my studies are funded by my disciplinarian father…"
My point here is that "passion" seems to be a common source of problems. For some, they have too many passions and don't know where to focus their energies. For others, it's the lack of a passion, or maybe a belief that their particular passion won't bring them somewhere worth going.
In this short post, I want to share a new way of looking at this troublesome concept…
What is Passion
Common to most peoples' thoughts about passion are the following three foundational beliefs:
To feel passionate about something is to be engaged and fulfilled by working on it, and to feel a desire to return to it whenever possible.
In the course of your regular life you will develop passions for various pursuits.
You will live a much happier life if you can align your studies as a student or career as a graduate with one of your passions.
Here's the hypothesis I've been developing recently: (1) and (3) are true, but (2) is false. And it's this common misperception that allows "passion" to wreak so much havoc.
Redefining Passion
Based on my own anecdotal experiences working with students and young graduates, I would offer the following alternative definition of passion and where it comes from:
Passion: The feeling that arises from have mastered a skill that earns you recognition and rewards.
Belief (2) from above posits that passions exist a priori of any serious engagement with a pursuit; they're some mysterious Platonic form waiting for you to discover. This is a dangerous fiction.
My alternative definition claims instead that passion is the feeling generated by mastery. It doesn't exist outside of serious hard work.
When Scott's readers say "I have too many passions," what they really mean is "I have lots of superficial interests." When my readers complain that their major is not their passion, what they really mean to say is "I don't have a level of mastery in this field that is earning me recognition."
I submit that this concept is liberating. It frees you from obsession over whether you are doing the "right" thing with your life. A mastery-centric view of passion says that aligning your life with passions is a good thing, but almost any superficial interest can be transformed into a passion with hard work, so there's no reason to sweat choices such as an academic major or you first post-college career.
Your real focus should be on the long road of becoming so good they can't ignore you.
Here are a couple short case studies to highlight the concept in practice...
Short Case Study #1: The Disillusioned Pre-Med
The most common student e-mails I receive are from pre-meds who are struggling through tough organic chemistry courses, are not having fun with it, and are worrying that perhaps becoming a doctor is not "their true passion."
The mastery-centric approach to passion has a simple solution to this issue: focus your effort on mastering the art of being a pre-med student. Clear your schedule of junk so you have abundant time to become an A* student in the topic. Become obsessive about the effectiveness of your technical study habits.
The feeling of "passion" you seek will be generated once you start kicking ass in your courses in a way that outpaces your peers and earns you the respect of the professors. Until then, of course you're not going to feel warm and fuzzy — at this early point in your student career, becoming a doctor is just a superficial interest. You have to build a recognized skill to transform it into something more.
Short Case Study #2: The Bored Programmer
Let's tackle a non-academic example. Imagine a young man working in web development firm. His days are spent hacking CSS and doing some mild javascript programming. The pay is fine and the projects are interesting enough, but a feeling of dread is starting to tinge his daily commute.
"I'm not passionate about this," our fictional programmer thinks. "Do I really want to spend the rest of my life doing the first random job I stumbled into, even if I don't love it?"
The traditional view of passion recommends that this programmer immediately summon the courage to quit his job and find something that fits his passion. (Tim Ferriss tells the canonical story of this form: an overworked LA lawyer who dropped everything to open a surf shop in Brazil.)
The mastery-centric view, however, denies that such a priori passions exist. There's probably no new job that would immediately grant him the feeling of passion he seeks. That can only come from mastery.
Assuming that the programmer doesn't hate his job and the people he works with, he should instead consider generating a passion for his work by finding something he can master.
For example, over the next couple of years, he might put in serious time to become a Ruby on Rails expert — allowing his company to branch off into more complicated projects, and earning him more respect, pay, and flexibility in the process. Gaining this mastery could transform his view of his job as something he tolerates to something he loves. And it will accomplish this feat with more certainty than a sudden move to Brazil.
A Hypothesis Develops
I present these ideas with the caveat of hypothesis. I've recently begun an extensive effort to dive into the research literature surronding these issues. (I encountered some relevant studies when researching my upcoming book and vowed to return.) Expect to here more on these topics as I continue my exploration.