Boring on Horseback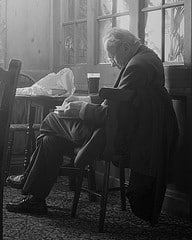 A few weeks back, on the recommendation of Ben Casnocha, I started working my way through David McCullough's biography of a young Theodore Roosevelt: Mornings on Horseback. I was interested in the subject, but the early chapters of the book, which detail the late-19th century New York social scene, were not grabbing my attention.
Not willing to give up the endeavor, I made some changes. First, I prepared a plate of a pleasantly sharp Australian Cheddar that I had discovered on an absurd sale at our local Whole Foods. I then poured a glass of an Italian Abruzzo (a purchase inspired by my early-September visit to a vineyard in the hills outside of Bologna), and settled onto my couch — the splash of incandescent light from my reading lamp the only illumination in the room.
In this setting, my mind eased free of its previous resistance and began to absorb McCullough's slice of life details. I found myself engaging the material in a way that just a few minutes earlier had been impossible. Something about the tang of the cheese, and the dry sweetness of the wine, supported by a creeping, yet controlled buzz, opened my mind.
This experience provoked an interesting thought: the context in which you do academic work is extremely important, yet most of us give it little consideration…
Context Matters
Here's my reaction to this realization: the setting for your academic work is as important as your methods. 
If you're working through class readings, tired and surronded by bored peers in a fluorescence-bathed study lounge, you're doing yourself a grave disservice. Even if you're deploying the most advanced study tactics, the context of your work is still weakening your results.
(Many students, I've discovered to my horror, are drawn to these terrible locations out of some masochistic sense that if they don't suffer, they're somehow slacking off. If this describe you, consider a zen overhaul to your student mindset.)
With this in mind, I charge you to give serious consideration to where you study, at what time, and with what environmental details.
For example…
If you're over 21, consider tackling reading assignments at a quiet, (non-student) bar, armed with a good pint. Is there any better way to tackle Scottish philosophers, or literary criticism, then with a dark stout? (If you're at Dartmouth, try Murpheys; if you're at Harvard or MIT, try Shay's Wine Bar in Harvard Square).
If you're not over 21, try working through your reading over a good meal at an off-campus restaurant.
Problem sets, I've discovered, are often best tackled on hikes. There's something about tossing rocks into a mountain lake that shakes loose sticky insight.
And so on…
I touched upon this concept briefly when I introduced the idea of adventure studying (which recommends awe-inspiring outdoor locations for work), and it's implied by A* strategies such as the notebook method (which asks you to spend unstructured time with a pen and paper notebook, working through big ideas), but I want push it to become a first-order principle to consider when planning your work.
That is, you should always ask yourself:
when am I going to study;
for how long;
with what strategies; and
in what context…
If you're aggressive and innovative in your answer to this last question — seeking the unusual and mentally-stimulating over the standard and easy — you'll reap benefits in two crucial areas: the sophistication of your understanding, and, more importantly, your enjoyment of student life.
Leave the study lounges to the grinds and last minute slackers, and go pour a pint. College life is too short, and the material too interesting, for you to remained holed up somewhere boring…
(photo by Monster)