A Bluegrass Slog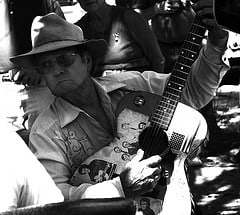 I recently began taking bluegrass guitar lessons.
It hasn't been easy.
The style is precise, which means that it requires an abundance of repetitious practicing.  A typical session might proceed as follows:
Listen to the same 10 – 30 second stretch of a song again and again, deconstructing the lead painfully, note by note, using your ear and a lot of trial and error.
Play this section of the lead again and again for another 30 minutes to an hour — rarely getting through more than a few phrases without a mistake that forces you to start over.
Repeat this enough times, with an increasingly complicated progression of songs, and a weekly check-in with a teacher to correct subtle mistakes in your technique, and you'll eventually be able to make your way through some basic bluegrass tunes without embarrassing yourself. In other words, the path to becoming even a passable amateur is long and demanding.
I'm sharing these observations because I think they provide an interesting metaphor for the task of building a remarkable life...
Grit vs. Frenzy

As I described above, learning to play bluegrass guitar is not a lot of fun. This being said, however, it's also not that demanding on your life: its daily time requirements are reasonable and it generates no stress. Furthermore, the effort will eventually provide big rewards, such as the experience of passing around the lead with a group of talented bluegrass musicians.
Compare this goal with the related pursuit of running the music club where such musicians play. Unlike learning the guitar, running a club is infamously demanding: It requires long, exhausting hours, and injects unhealthy amounts of stress into your life.  Furthermore, the rewards don't compare to those experienced by the admired musicians entrancing the crowd.
Here's the important point: most people are more comfortable becoming a club owner, even though the guitar player enjoys less stress and more rewards.
I don't mean this in the literal sense that most people want to start music clubs. Instead, I'm referring to the idea that most people are more comfortable with the club owner-style work frenzies than they are with the guitar player-style grit.
For example, to draw an analogy to college…
Most students are more comfortable trying to survive lots of classes and activities than they are investing the deep concentration — spent with a pint in a quiet bar or a notebook under a tree — required to become an A* student in a single subject.
This holds true even though the latter path is less stressful, more engaging, and opens up more exciting post-grad opportunities.
And, in the workplace…
Most employees are more comfortable getting ahead by taking on more work than their peers and reducing their e-mail response time to the single digits than they are mastering, bit by bit, a skill that's incredibly valuable in their field.
This holds true even though the latter is the key to an enjoyable career, and the former can provide only standard-paced promotions (and ulcers).
The Guitar Player Paradox
I'm intrigued by this observation that we prefer stress over hard focus. My current hypothesis proposes two explanations:
First, the club owner strategy is more predictable — you can't go wrong working harder, even if its rewards are distilled.
Second, and perhaps more important, hard focus, at first, can be incredibly uncomfortable  — so much so that we'd rather accept 12 hour days of regular work than spend 2 hours on intense concentration. The good news is that, as Haruki Murakami taught us, hard focus is a practiced skill. If you improve this ability enough, the guitar player path might eventually seem less onerous.
I plan on exploring this paradox in more detail in the near future, as I wonder if it might hold the key to jump-starting a remarkable life. In the mean time, you should ask yourself a simple question:
Who are you trying to become, the guitar player or the club owner?
(Photo by Bill Gracey)