E-mail Zero Strikes Again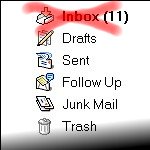 Once again I'm using Thursday to publish a bonus post about my E-mail Zero project. For the uninitiated, this short series questions the idea that all people should use e-mail and related technologies in the same way. It seeks out examples of alternative communication lifestyles.
Today, I'm happy to report that the venerable Merlin Mann from 43 Folders has recently published an article series on a similar topic. I wanted to point your attention to another E-mail Zero practitioner that Merlin recently wrote about: author Neal Stephenson.
I'm a Bad Correspondent
Here is a key excerpt from the author's web site:
Writing novels is hard, and requires vast, unbroken slabs of time…If I suspect that I might be interrupted, I can't do anything at all.
Which leads to:
If I organize my life in such a way that I get lots of long, consecutive, uninterrupted time-chunks, I can write novels. [If I instead get interrupted a lot] what replaces it? Instead of a novel that will be around for a long time…there is a bunch of e-mail messages that I have sent out to individual persons.
And then the big finish:
For me it comes down to the following choice: I can distribute material of bad-to-mediocre quality to a small number of people, or I can distribute material of higher quality to more people.
What Does This Mean For You?
The big picture point: Ultimately, you gain respect and reward in this world for the hard things you do. Ask yourself this: what distractions disrupt your concentration? Does being constantly available by text message, or e-mail, or on Facebook make you better at being a student? Or does it make you worse? Do you really need to be that accessible?
The right answer differs for different people. But the one thing this series makes clear: not every communication technology is right for every person. Even if it seems like everyone is using it…
If you're curious about the types of places such questions might lead you, consider this fact: I do not have — nor have I ever had — a Facebook account. And yet, mysteriously, I still have friends who know my relationship status and what movies I like.

Crazy. I know. But once you start asking the right questions, interesting answers shake loose…
(Photo by dampeebe)