E-mail Zero Redux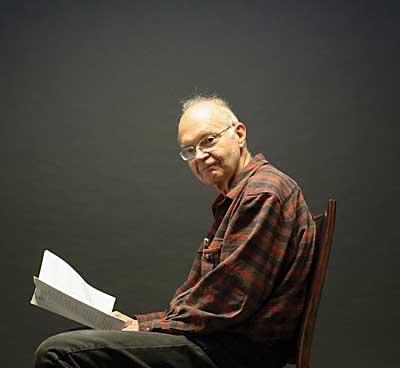 Two weeks ago, I introduced E-mail Zero, the concept of living life with no e-mail. The motivation was to investigate innovative ways to combat the stress and lack of focus caused by living in your inbox. My case study was MIT professor Alan Lightman, who though very busy and important, communicates solely by phone, mail, and in-person meetings.
Thanks to Mike Brown, over at the BrownStudies blog, I've found another fascinating E-mail Zero case study to share. I'm talking about Stanford Professor Donald Knuth, arguably the world's most important living computer science personality (my advisor, no small shakes herself, recently won the "Knuth Prize," a major honor). Professor Knuth is perhaps best known for his famed series: The Art of Computer Programming (named by American Scientist as one of the best twelve physical-science monographs of the century.)
On his official Stanford web site, Professor Knuth notes:
I have been a happy man ever since January 1, 1990, when I no longer had an email address. I'd used email since about 1975, and it seems to me that 15 years of email is plenty for one lifetime.
He continues with a rationale for his decision:
Email is a wonderful thing for people whose role in life is to be on top of things. But not for me; my role is to be on the bottom of things. What I do takes long hours of studying and uninterruptible concentration.
The argument here is obvious. But still, nonetheless, powerful. For some jobs, e-mail hinders your ability to perform at your peak. In such situations, it would seem, as Professor Knuth has concluded, you might have an professional obligation to stop using highly distracting electronic communication.
But wait! The good professor is the author of famous textbooks, and he is famously diligent about tracking down bugs (he rewards any reported bug with $2.56 — one hexadecimal dollar). He also plays a major role in the computer science community and is constantly, I imagine, in contact with all sorts of famous people and powerful academics and members of the media. He has to stay in touch with tons of people all the time!
No worries. He's got that covered:
On the other hand, I need to communicate with thousands of people all over the world as I write my books. I also want to be responsive to the people who read those books and have questions or comments. My goal is to do this communication efficiently, in batch mode — like, one day every three months. So if you want to write to me about any topic, please use good ol' snail mail and send a letter to the following address…
But wait again! What if someone requires an urgent response? Again, he's a step ahead:
I have a wonderful secretary who looks at the incoming mail and separates out anything that she knows I've been looking forward to seeing urgently. Everything else goes into a buffer storage area, which I empty periodically.
Okay, but what about us poor computer science students, with a textbook bug to report. We're not going to take the time to buy stamps and envelopes — which none of us own. Once again, Professor Knuth has us covered:
My secretary prints out all messages addressed to [email protected] or [email protected], so that I can reply with written comments when I have a chance.
Two important things to notice here. First, these are specialty addresses. "taocp" is an abbreviation for his book, and "knuth-bug" is specifically for reporting mistakes in his book. Therefore, these e-mail addresses — which get printed and added to his snail mail pile — can be used only to ask a question about his book or report a bug. Anything else — as he clearly goes on to state — is discarded.
Knuth's Two E-mail Lessons
Professor Knuth offers two important insights for our E-mail Zero discussion:
Some jobs are performed better without e-mail.
Professor Knuth is quite insightful to notice that for some jobs — such as those that require long periods of concentration — on the whole, e-mail can do more damage than good. Sure, it's convenient for some things, but it scuttles your primary professional purpose. When contemplating the E-mail Zero lifestyle, ask yourself the following two questions: What do I do that makes me most valuable? Would e-mail make me better or worse at this primary role? A simple idea. But as mentioned, powerful in its implications.
E-mail can be processed like snail mail.
Professor Knuth was savvy to realize that certain groups he wanted to hear from — i.e., young people finding bugs in his books — would probably only communicate via e-mail. Having the messages printed and added to a snail mail inbox is a great way to keep these avenues alive without the distraction of a checkable electronic inbox. Of course, most of us don't have a secretary to handle this printing. But I imagine that this is a perfect place for a part-time, out-sourced virtual personal assistant (VPA). Tim Ferriss, for example, talks frequently about his VPA who manages his e-mail and forwards him the most important messages. Imagine, instead, having a VPA paid only to check your inbox once a week. He filters out the obvious spam, discards messages that match some rules you provided, and then prints, scans, and sends you a PDF of the rest. Once a week (a month? every three months?) you can print the PDFs and sort them with your snail mail. Worried about urgent communication? Have your assistant sort these out and send them in a separate PDF that you print and process every week.
I'm just thinking out loud here. But we have to give Professor Knuth credit for giving us some outstanding new insight into the different roles e-mail might play in a hyper-efficient, hyper-focused work style.
Who else do you know that does or would benefit from the E-mail Zero lifestyle?
(photo from StanfordAlumni.org)