Amy's Tale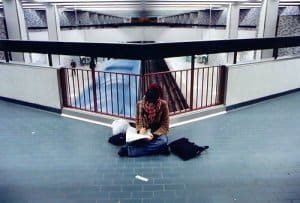 I recently received an e-mail from a student I'll call Amy, who is a sophomore at a well-known university. She began: "I've really turned my academic life around and because of this my entire life has improved…"
As I read on, I learned Amy transformed a 3.0 GPA to a 3.7 GPA while improving her social life and decreasing her stress. At the core of her transformation where the tactics of the Straight-A Method and the philosophy of the Zen Valedictorian.
"When I read How to Become a Straight-A Student over the summer I thought it seemed too easy," she told me.
"However, only a few habit changes totally redirected my life."
I want to share Amy's story. It provides an important reminder how surprisingly easy it can be to make that transformation from out of control to a standout.
But enough hype, let's get to the details…

Scholarship Woes
Amy's story has a familar start:
"I began college with a major in speech, language, and hearing sciences. I didn't feel particularly passionate about my major…I chose to live in a huge, mainly freshmen dorm in the middle of campus so I could meet lots of people and be close to my classes."
We've heard this before. A student stumbles into undergraduate life with no clear plan. This, in turn, makes the student vulernable to odd beliefs and disasterous habits.
"I convinced myself that I never needed to study as much as my roommate, who had a premed major, and I always compared my studies to her in terms of difficulty," Amy recalls.
"If she skipped I class I thought 'so could I,' if she studied on Saturday I felt like I didn't need to because my classes weren't as hard. "
This neurosis soon spiralled toward to an unsubstainable work schedule:
"On a typical day I would go, or not go, to class, go right back to my room, hang out till my next class, go to that, hang around some more, meet up with people for dinner, socialize until late, and then maybe I'd take a stab at my work around 1 am."
I hear similar stories all the time. I cannot reiterate this enough: if you enter college adrift, with no sense of why you're there or how you plan on accomplishing your goals, you will get pushed around by the swirl of uncertainy and activity around you. Some students survive this gale. But many others, like Amy, get manhandled into troubled waters.
Amy earned a 3.08 GPA that fall. The next semester she had pressure to raise her grades to keep her scholarship, but she ended up scoring only a 3.06. She lost the scholarship, and her family had to scramble to pull together the money for her return to campus the next fall.
Something had to change.
Over the summer, Amy began to think seriously about her student life. When she returned she was ready to try a new approach.
Amy's Comeback
"I came back this fall and got a 3.7," Amy reports.
"It wasn't painful at all! I never moved into the library, I partied way more than I did my freshman year, and I was never miserable."
What fueled Amy's turnaround? She lists the following strategies as the cause of her new found success (I've annotated them with related articles from Study Hacks so you can learn more about applying similar techniques to your own student life):
"I moved into the furthest dorm from campus. I have to walk 20 minutes to class every day. Because of the length, I usually only take the trip into campus once a day, giving me lots of time to work in between classes." (see The Quarantine Method)
"It's not a very big dorm so I don't have people knocking on my door all the time when I'm trying to get work done."
"I don't always eat with my friends. I know this is weird, but it's important! Waiting for a big group of people to all want to eat and then going to eat always turned into a long ordeal for me last year." (see Eat Alone Twice a Day)
"I stopped pseudoworking. I make flashcards, practice tests, tables, and charts. I'm constantly testing myself, and you'll never see staring blankly at a book 'absorbing' information again." (See Pseudo-Work Doesn't Equal Work and Studying is a Technical Skill)
"I work hard and play hard. It's a totally different way for me to operate, but the payoff was great. I never feel guilty when I'm supposed to be having fun." (See Fixed-Schedule Productivity)
"I've gotten close to my major. My major wasn't important to me last year, but this year I made sure I knew what I was doing before I got any deeper into my studies. I read journals relating to my field, talked to experts…All of this made me realize that I actually love my major…I would never again say that my studies weren't as important as someone else's." (See Don't Discuss Your Major with Your Parents)
Amy concludes: "I have so much more confidence. For example, I'm involved with starting a new project in my pre-professional group, and I started an undergraduate research assistant job."
"Last year I never thought I would be doing stuff like this."
If your student life is feeling out of control, if you're regularly studying late into the night and always feeling disorganized, if you feel negative about your abilities: follow Amy's example. Taking control could be as easy as a few simple changes…