Boredom Matters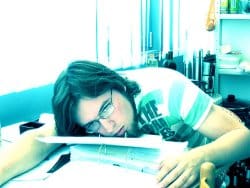 Earlier this week I listened to a radio interview with New York Times food columnist Mark Bittman. He was discussing his new book Food Matters, which describes practical advice for eating consciously and healthy. One quote, in particular, caught my attention. He mentioned that a factor behind American obesity is that "we've lost our tolerance for a little hunger." As soon as the slightest pang arises in our stomach, we dash off to the nearest source of calories, which is often processed and terrible for us. Bittman notes that it's okay to be a little hungry during the day.
(Having once lived a famished month in France, I know that other countries certainly concur with this concept.)
This idea got me thinking about a completely different topic: hard work. Inspired by Bittman's formulation, I found myself asking: have American students lost their tolerance for a little boredom?

I should clarify: I'm not talking about big picture boredom with your life. I'm referring, instead, to the short term malaise that arises when we lack a ready source of novel stimulation — the pressure behind your eyes that builds twenty minutes into writing a paper or reading a tricky article.
The more I advise students, the more I notice a growing lack of tolerance for this sensation. At the first sign of boredom, we reach for e-mail or refresh a Facebook feed. A shockingly large amount of schoolwork gets done in a last minute frenzy, fueled by the adrenaline of an impending deadline, and proceeding in a confusing, inefficient slurry of short work bursts constantly interrupted by quick hits of boredom-busting stimulation.
This reality worries me.
Exceptional things — be it ideas, writing, mathematics, or art — require hard work. This, in turn, requires boring stretches during which you ignore a mind pleading with you to seek novel stimuli — "Maybe there's an e-mail waiting that holds some exciting news! Go check!".
This all brings me back to that unavoidable, meddlesome question fueling this entire line of inquiry: If our generation loses its tolerance for boredom, will we lose our ability to produce things of exceptional quality? Have we lost the art of serious self-education and self-inquiry? Have I lost these abilities?
These questions worry me, especially when, after just a few minutes of pondering their truth, I find myself tempted to see what's on TV.