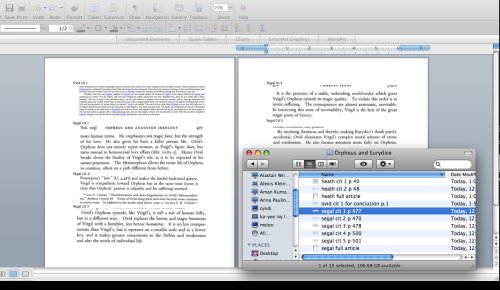 Electronic Flatness
A reader recently wrote me with an improvement to my flat outline method for research paper writing. The original method asked you to build an ordered list of the topics you want to address in your paper, and then start typing in quotes from your personal copies of the research sources directly into the outline, putting each quote under the relevant topic. By the time you start writing your paper, this flat outline contains all the information you need — allowing you to focus on writing without having to rummage through a pile of sources.
This reader noted, however, that for some papers, she had to read lots of electronic sources, usually in PDF format. It seemed like a waste to print each of these and then manually type the quotes she needed into her flat outline. So she innovated a new approach.
It works as follows:

When reading a PDF source on your computer screen, if you come across a quote you want to capture, do an image screenshot. On a Mac this means pressing Command + shift + 4, and then dragging a box around the quote.
The image will appear on your desktop. Immediately rename the image in the format "Author last name cit # pg #", with cit # standing for the citation number — if it's the first quote, it's cit 1, second, cit 2, etc. (See the screenshot at the top of the post.)
Build your flat outline in Microsoft Word as usual. To add a quote to the document, drag the image file right where you want it in the document; the image will embed itself automatically, as shown below: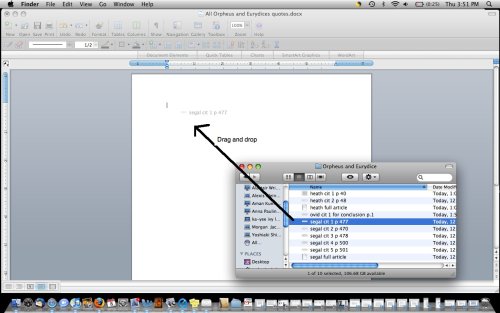 This technique is best suited for medium size papers. For short essays, it might be overkill. For long research papers, I'm still a fan of the paper research database. But for medium size papers that require you to quickly process a dozen or so electronic sources, this tip can help you capture relevant quotes fast, so you can spend more time crafting the story: the step that makes the difference between a 'B' and an 'A+'.