Imagine if a stressed out, over-committed undergraduate failed to get into his top 11 choices for law school, and then discovered a new path to becoming a standout; a path built upon doing much, much less…
The Grind Who Learned to Focus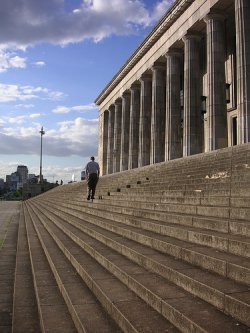 As an undergraduate at a large Midwestern university, Scott had has eyes set on law school. Following conventional wisdom, he assumed that the more activities he joined the better his chance for admission.
"I became very involved with my fraternity, eventually being the Vice President of Recruitment and then Vice President of Programming, " Scott recalls. "I was also involved in: class honoraries, interfraternity council, student-alumni council, the Homecoming Court, and was an Eagle Scout."
Then came his senior year and the mailing of law school applications.
"I applied early decision to Georgetown, thinking that my Jesuit high school education, being an Eagle Scout, and having been so involved in undergrad activities would make up for my decent, but certainly not stellar LSAT and GPA."
It didn't help. Scott soon realized that his GPA and LSAT were by far the most important piece to his application. The laundry-list of activities he had so painfully constructed impressed no one.
"I was rejected from: Georgetown, Michigan, Penn, Northwestern, Duke, Virginia, George Washington, and UNC. I was waitlisted at Notre Dame, Boston College, and Boston University."
In fact, he was accepted to just one school — his undergraduate alma mater, and that's where he decided, by default, to attend. On campus, he noticed that many of his new law school classmates were "getting overly involved in a lot of little organizations," the same strategy that had just failed Scott. Taking a cue from the Zen Valedictorian philosophy (he had discovered Study Hacks around this same time), Scott rejected this laundry-list approach, and instead emphasized focus.
"I started to think about my area of expertise. I had majored in Economics and International business, and minored in French, I also had five years of Latin. So I applied to the Foreign Language and Area Studies Fellowship to pursue Romanian and Eastern European studies. I won the fellowship for the next year. This will now help me to earn a certificate in International Trade and Development. It also scored me an internship this summer, working in Washington, D.C. at the International Trade Administration in the Department of Commerce."
Like any good Zen Valedictorian, Scott couples this newfound focus with the power of underscheduling:
"I decided not to join a law journal, which most of my classmates will be starting in the next few weeks. I also avoided taking any active involvement in any other student organizations at the law school. "
In his future, Scott looks to convert his focus into even more innovative directions. "I'm hoping next summer to work with either the WTO, the US Trade Representative, or another government agency. Then I'm hoping to take all of this and apply for a Fulbright to study in Romania after I finish law school."
With such an impressive, focused resume behind him, Scott's chances at a Fulbright are looking good.
From Scott's Life to Your Own
Scott's laundry-list of undergraduate activities — none of which produced the failed-simulation effect — generated stress in his life but few real returns. As he matriculated at a second-tier law school, he faced the grim prospect that three years later he might once again be flailing to find a spot; this time, in the notoriously tight law job market.
But he had learned his lesson. By focusing on a single point of interest — Eastern European international law — and constantly looking for innovation — the FLAS fellowship, the government internships, and, potentially, a presitigous Fullbright scholarship — Scott is poised to leap past his classmates and into a powerful, interesting career. Best of all, his life is much less stressful than those of his over-committed classmates — students who are battling it out to win journal editor spots and creep, painfully, ever-higher on the class rank lists.
Keep Scott's story in mind as you sign-up for activities this fall. Are you becoming an expert in your own niche, or are you struggling to compete in the same big ponds as everyone else?
(Photo by blmurch)