Dated Thinking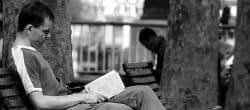 I rarely know the date that things are due. Yet I'm not disorganized. I check my calendar every morning, and it contains dozens of deadlines. But here's the thing: few of them match the actual due dates. They are almost all earlier; sometimes much earlier.
I'm not sure exactly when I started this habit. It was sometime during college. At the time, I didn't think of it as a clever strategy; it was, instead, just something I did to keep stress low and my feeling of self-control high. Only now am I'm starting to recognize it for what it is: a highly effective strategy for handling a college-level workload.
The Retreating Deadline Method
I can formalize this habit of mine as follows:
Shift the due dates of all major assignments, papers, and exams at least one day earlier on your calender.
For the purposes of working on the assignment, writing the paper, or studying for the exam, forget about the original date. (Obviously, for the purposes of taking an exam, remember the real date!)
Construct your work schedule to finish by the new date, as if it was real.
The benefit of this advice is profound. By avoiding work on the day before something is due you basically avoid ever feeling time pressure. This significantly reduces your student stress. (Even if you're super efficient, it's still nerve-wracking to wake up the day before a paper deadline with a lot of writing to complete.)
Another benefit is the sense of self control you gain by freeing yourself from a "last minute" mindset. When you finish assignments a day (or more) before your classmates' final scrambles, you feel like you're the master of your own academic universe. This confidence is exhiliarting.
But What About Procrastination?
There's an elephant in the room here: procrastination. Some students react to this suggestion with disbelief. "I can't finish work early!" they cry. "I'm a procrastinator!"
Let's deconstruct this complaint. As we know, there are two sources of procrastination. The first is deep procrastination, which comes from a fundamental resentment toward to difficulty of your workload. If you're suffering from deep procrastination, no small strategy will help you. The only solution is to simplify. Switch to a major you like, drop most of your "List A" activities, and take a reasonable course load.
The other type of procrastination comes from poor scheduling — "I have plenty of time…oh shit, it's due tomorrow!" — and bad study habits — "I don't even know how to get started." Both are easily fixed. Get a calendar. And make a study plan for each assignment, paper, or test. (Browse the study tips archives for tactical inspiration.)
A Small Change. A Big Impact
What's nice about the retreating deadline method is that it doesn't require more work. It simply shifts your existing work by a small amount. This small change, however, radically transforms the way you feel you about your student life. If you're tired of stress, try this for a few upcoming assignments. You'll be hooked.