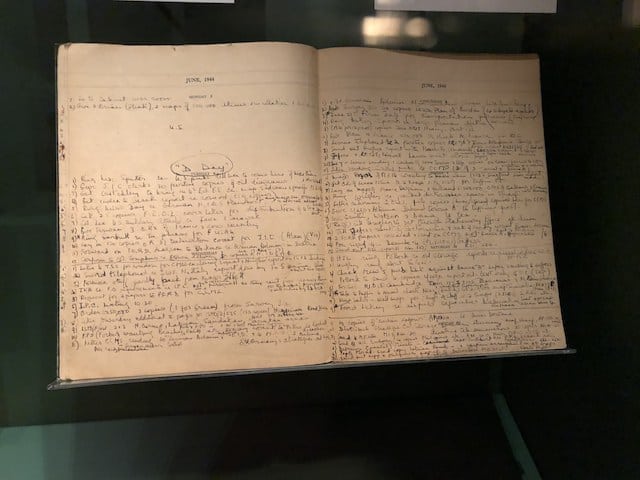 Last week, I received an email from a reader who had just returned from a trip to the Churchill War Rooms, a London museum housed in the bunkers, built underneath the Treasury Building, where Winston Churchill safely commanded the British war efforts as the Blitz bombarded the city above.
The reader had photographed an artifact he thought I might find interesting: a to-do list labeled "D Day," written by one of the secretaries serving Churchill.
Here's a detail shot:

Superficially, I was intrigued because I've been consuming a lot of WWII history recently. (At the moment, I'm concurrently reading The Splendid and the Vile along with David Roll's excellent new George Marshall biography.)
But it also resonated at a deeper level.
On my podcast, I've been talking a lot about the notion of "facing the productivity dragon." The idea is that when you're confronted with a seemingly untenable set of obligations — as so many are right now during these pandemic times as jobs disappear, or force us to somehow juggle mounting work responsibilities with closed-school childcare — it's still best to enumerate the full scope of the challenge.
Don't retreat into frustration and despair. Write down everything that's demanded of you, even if you can't possibly satisfy all of the obligations. Then make the best plan you can given the difficult circumstances. The comfort comes from the plan, not the achievable outcomes.
Face the dragon, in other words, even if it's terrifying. You'll end up calmer and with more resolve than those who flee.
This is what came to mind when I looked at the above artifact images from the Churchill War Rooms. Even when forced to deal with something as hopelessly complex, and fraught, and impossible, and insanely high stakes as the reconquest of Europe, the first step was to write down, in humble script, the full scope of the tasks required for such an overwhelming endeavor.
You cannot slay the dragon until you can see it.