The Crowd Speaks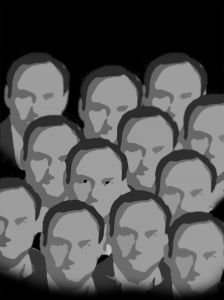 Enough about me! Last week I asked you to share your most effective and unusual study hacks. You sent in some clever strategies. Below are five of particular interest. Hopefully these will help stimulate your own thinking toward the sheer variety of approaches that are possible for mastering your academic environment.
I'm sad to report, however, that I don't actually have t-shirts, as promised, that feature a smiling picture of me with the caption "Straight-A Students Do It On Schedule." Although I thought this was infinitely clever, I was informed by Julie that, in fact, it's infinitely not.
HACK #1: Study in Character
Submitted by jlb
Faced with a tough academic challenge? Imagine a character that would handle it well. Then tackle the challenge in character. Reader jlb admits to being a procrastinating perfectionist. But it when it came to earning his PhD in the classics, he invented: The Efficient Classicist. When ever it came time to work, he first asked "what would the efficient classicist do?"
As jlb recalls: "I was pleasantly surprised to realize that I knew exactly how an efficient classicist would behave, and I stuck to it. Inventing this fictional character helped me to get beyond my limiting ideas about myself."
HACK #2: Memorize by Connecting to the Unforgettable
Submitted by Vincent
When faced with a straight memorization task, as in a Latin or foreign language class, don't resort to rote review. Instead, connect each word to a strong visual that ties to both the word itself and its meaning. Not just any visual, mind you, but outrageous, unforgettable visuals. Use sex, drugs, booze, the thought of crazy old Mrs. Hannigan naked — whatever will stick out in your mind.
Reader Vincent describes how he learns Latin words 8 seconds at a time: "To learn "procella" (Latin for "storms"), for example, I imagine Hilary Clinton fervently making a speech on a stand as a "pro" (I mean pro as in an advocate) for "cellars" (of lots of beer) while thunder ("stormy conditions") strikes in the background. When you do this two to three times a week, it becomes second nature."
HACK #3: Quiz-and-Recall Using Idea Maps
Submitted by Dominic
When facing a class that presents a large amount of detailed information, using quiz-and-recall method on the raw facts can become overwhelmingly boring; not to mention that it becomes easy to miss the bigger picture connections and ideas that will help you on an advanced test. Try this instead: organize the information into idea maps that connect the information to bigger concepts which in turn connect with each other. When studying, try to reconstruct the idea map from scratch.
As reader Dominic explains: "During an exam, the first thing I do for each problem is to ask: 'what part of the idea map does this belong to?' Usually the problem's core concepts then become clear. Ever since adopting and refining the above strategy, I have received nothing lower than an A in my advanced biology classes."
HACK #4: Visualize Your Way Into a Flow State
Submitted by David
We work best when hit that magical moment of flow where everything else in the world drops away and your concentration is at its peak. Reaching this state, however, can be tough when you're in a crowded study lounge, surrounded by over-caffeinated pre-meds loudly debating whose recent panic attack was most spectacular.
To combat this, head to a library that is quiet and that has nothing to do with what you study. This reduces stress and helps you relax. Once there, visualize yourself levitating in the air and looking at the back of your own head. This exercise, when enacted in a calm environment, helps you fall into a flow state.
As reader David explains: "I do this visualization exercise and it allows me to immediately enter the flow state. Having a relaxed environment just reduces the temptation to focus deadlines or upcoming tests and instead concentrate on accomplishing what needs to be done."
HACK #5: Meditate Your Way Into a Flow State
Submitted by Michael
Not big on visualizing? Reader Michael (of the University Scholar blog) recalls a recent study by Dr. Heidi Wenk-Sormaz that demonstrates how 20 minutes of meditation produced better results on a subsequent concentration task than 20 minutes of relaxing or working on another problem. Take advantage of these concentration-boosting powers of meditation. Consider a quick 10 to 20 minutes of getting your zen on before class, before studying, before working on a paper, before a big test, or, even if you're just having a hard time getting your motivation amped up.
As Michael notes: "Meditation is easy. You don't need to find a meditation center or sign up for yoga. All you need to do is sit comfortably, on your knees, in a chair, or cross-legged on the floor and focus on your breathing."