Rewriting Science…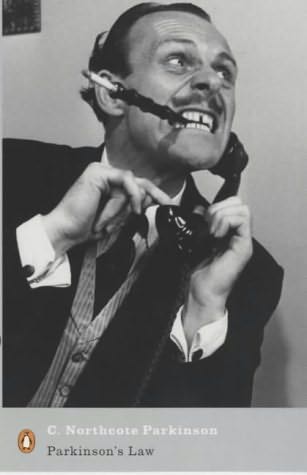 The phenomenal success of Tim Ferriss's recent book, The Four-Hour Work Week, brought to prominence a distressing trend that has been recently plaguing the self-help community: citing rough summaries of scientific principles as evidence for unrelated how-to advice.
The principle, in particular, that I'm interested in here is Parkinson's Law. Informally, the law states:
"Work expands so as to fill the time available for its completion."
This was the opening sentence of the humorous essay Professor Cyril Northcote Parkinson published in The Economist in 1955. The essay went on to explain the results of a study of the British Civil Service. (Click here for an expanded version of the essay published in Parkinson's eponymous book on the subject).
Unfortunately, as we'll see, in modern usage the study itself has been discarded in favor of this one sentence opening — a tendency that obscures its true meaning.
The Misuse of Parkinson
Parkinson's Law is widely cited in Ferriss's book and in countless blog articles as evidence that when given a task, a human will fill whatever time was alloted for its completion. The conclusion: a feeling of busyness shouldn't prevent us from reducing the time we set aside for work. In other words, they take the opening sentence from Parkinson's essay and then interpret it literally.
The reality, however, is more complicated…
Inside the Civil Service
If you read deeper into Parkinson's work, you soon discover that he is not making a general claim on how humans procrastinate. He is, instead, summarizing a rather rigorous statistical proof he devised to explain observations of a very specific context: the British Civil Service. Parkinson, it turns out, was intrigued by the following paradox: the number of people employed in the British Colonial Office bureaucracy increased even as the British Empire imploded — an event that decreased the amount of work available.
Parkinson's Law is not a catch phrase, but instead a statistical model devised by Professor Parkinson to describe the factors that control the growth of bureaucracy. It's central conclusion: growth is independent of the amount of work to be done.
Among the non-work related growth factors he identified were:
The tendency of slightly overworked officials to hire pairs of subordinates to relieve the strain — the pair being necessary to prevent any one from usurping the original official's functionality. The added work capacity here far outstrips the demand.
The well-known ability of officials to create work for those below them.
Parkinson Doesn't Care About Your To-Do List
In light of Parkinson's full findings, the adage that "work expands to fill available time" takes on a new meaning. To Ferriss, and other how-to writers, it's interpreted, as mentioned, to mean that individuals will procrastinate and drag out tasks to fill an arbitrary work day. To Parkinson, however, the adage was meant to highlight a truth about large bureaucratic organizations: growth can be unrelated to work.
Parkinson would be amused at best, and confused at worst, to see his conclusion applied to self-employed, blog-reading, high-tech entrepreneurial types struggling to maintain a work-life balance. It's a worthy cause. But certainly not one that concerned the good Professor.

Finding New Relevance for Parkinson
At the risk of suffering the same sin I just urged you to avoid, I suggest, tentatively, that there is still some modern value to be mined from Parkinson's work. When you forget the famous one sentence summary, and dive, instead, into the guts of his study, the following more profound conclusion shakes loose:
Well-established work cultures can harbor irrational behavior. Beware!
In the civil service, this meant employee growth can occur even as work demands decrease. For a college student, on the other hand, this could refer to the irrational belief that physical suffering — in the form of all-nighters and long study marathons — is the key metric for proper test preparation and paper writing.
This isn't logical. As Study Hacks readers know, a little pre-planning and some efficient review techniques can eliminate the need for such suffering all together. But a strong work culture — as Parkinson observed — can exert surprising strength on your behavior.
Conclusion
To conclude, be wary of any writer, myself included, who uses a brief high-level summary of some scientific principle as justification for any manner of unrelated ideas. What lurks beneath the fortune-cookie headline invariably provides richer insight.