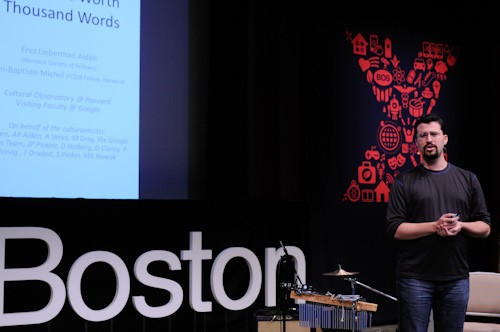 A Tale of Two Applied Mathematicians
Over the past few months, I've been working on an interesting research problem. My collaborator and I are taking some math tools typically used to analyze computer algorithms and are applying them to human behavior. Our plan is to publish in a specialized computer science conference. Because the work is different, we assume it might be an uphill battle to gain notice at first.
By itself, this story is not that relevant to our goal of decoding how people build remarkable lives. It gains new importance, however, when we contrast it to the actions of another researcher — someone with a phenomenal talent for remarkablilty, who once faced an eerily similar situation.
Six years ago, Erez Lieberman Aiden, then a 27-year-old Ph.D. student in a joint Harvard-MIT program, had a familiar idea. He also wanted to use the same math tools that interest me to study human behavior. Whereas I'm focused on a modern scenario (how people behave on social networks), Erez studied something more ancient (how cooperation evolved in early humans), but the underlying research strategy was essentially the same.
It's here, however, that our stories diverge…
I'm targeting my results for a specialized venue and am still uncertain about its reception. Erez, by contrast, was more confident. He quickly wrote up his ideas and published them as a short note in Nature, one of academia's most influential journals. The note might have been short, but its impact was long-lived: in the half-decade since it's publication, its been cited over 550 times.
I've written in detail about the importance of diligently focusing on a small number of goals, and the importance of deliberate practice in developing skills fast. Erez certainly embraces these strategies. But then again, so do I. What strikes me is that there's something more going on here. It's as if Erez and I are, in some profound sense, wired differently in the way we choose and develop projects.
Put another way, he has an instinct for impact that I seem to lack.
At least, for now.
One of my new obsessions is decoding this instinct — how it works, and more importantly, how to cultivate it.
Failed Attempts to Dismiss the Impact Instinct
Let's start by considering a pair of obvious explanations for Erez's impact.
An easy dismissal is to defer to brilliance. Perhaps his secret is that he applies an absurd amount of brain power to solve important problems that stump his peers. If this is true, then there's nothing easily replicatible about the impact instinct.
Fortunately, a closer look at his Nature paper falsifies this hypothesis. The result in the paper is shockingly straightforward: easy mathematics applied in a very natural way. (Erez even uses the word "simple" in the paper's title to emphasis its lack of technical fireworks.) It was the basic concept he presented, in the way he presented it, at the time that he presented it, that mattered here.
Another easy dismissal is to defer to luck. Maybe he stumbled into an easy problem at the exact right time and is now reaping the unexpected windfall. If true, this too would yield a non-replicatible explanation for his success.
Fortunately, a closer look at Erez's publication record falsifies this hypothesis as well. It turns out that he's repeated this feat of producing a big impact result on two more occasions since his first breakthrough. Not only were these subsequent results in two different fields — molecular biology, and the quantitative study of culture — the corresponding papers both made the cover of  Science — an absurd success rate!
If we cannot easily dismiss Erez's instinct as something impossible to replicate, we are left with a pressing question: what does matter?
Decoding the Impact Instinct
I don't have a definitive answer to the above question, but I'm starting to circle around some likely suspects. Something that definitely catches my attention at this point are the specifics of Erez's training.
Erez trained under Eric Lander, the MacArthur Genius Grant-winning director of the Harvard/MIT Broad Institute. Lander is an Oxford-trained mathematician who helped spark the convergence of math and biology that led to breakthroughs like the sequencing of the human genome.  He's arguably the world's top expert on applying mathematics to new areas of biology in a way that generates high impact results.
Training under Lander, a young Erez would have been taught exactly what type of novel interdisciplinary results cross the threshold required to publish in Nature, and how to write and promote such results in a way that demands attention. (In fact, in my new book on remarkable careers, which comes out this September, I profile a hotshot young Harvard professor who, like Erez, also mixes mathematics and biology in attention-cathcing ways, and who also did a postdoc in Lander's lab. She too made her reputation with an influential Nature article while still working under Lander.)
I have no idea, for example, how to take the computer science result I'm working on and shape it so that it can be published in a top general science venue, like Science or the Proceedings of the National Academy of Sciences, or so that it can gain major press attention like Erez often wins for his results (c.f., this cover article in the New York Times). To me, to attempt to do so seems like a wasted, hubristic effort.
Hypothetically, however, if Eric Lander revealed himself as a huge Study Hacks fan, and  flew down to D.C. to personally coach me, I wonder if these goals would suddenly become plausible?
In some sense, on a smaller scale, I might already be benefiting from a similar coaching advantage. I frequently publish at a conference called PODC, which is a top venue in my niche of distributed algorithm theory. It undoubtedly helps that my PhD advisor at MIT founded the conference. My whole graduate training was oriented around the goal of "writing PODC papers," much in the same way I assume Erez's training was oriented around "writing attention-catching Nature and Science papers."
If this training-centric hypothesis is correct, it bring us back to my recent interest in avoiding pseudo-striving and embracing reality-based planning. Lots of very smart researchers want to replicate the type of success enjoyed by Erez Aiden Liberman, and most work just as hard. But they've failed to put an equal emphasis on figuring out how to direct this energy toward impact. We all chat casually about this topic, but what I see in Erez is a systematic, non-obvious, difficult training in these realities.
We can't all go work with our fields' equivalents of Eric Lander, but I don't think this prevents us from learning the same lessons about producing impact. My optimistic contention is that if we apply a touch of the journalistic to our careers — systematically studying, without bias toward what we want to hear, the reality of how our colleagues gain notice — we can hone the type of instinct that Erez deploys so effortlessly.
Bottom Line: There's no magic in how these stars become remarkable, but there's nothing simple here either. Stand outs like Erez were trained by world experts in how to produce impactful results in their field. This training is crucial and non-obvious. If we don't work hard to replicate it, we cannot expect to replicate its results.
###
I'll talk more about my new book as we get closer to the September publication date, but if you're interested in learning more in the meantime, check out Publisher Weekly's nice review, which came out earlier this week, or this recent Wall Street Journal article that quotes me on some of the book's ideas.
(Photo of Erez at TED Boston by Ritterman)