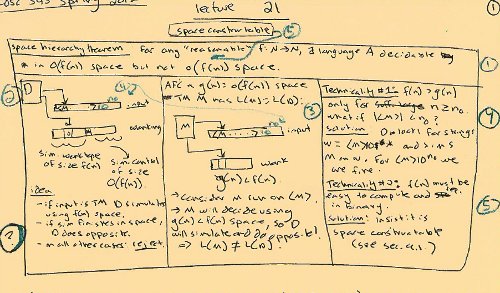 Insight into Impact
I recently had an interesting conversation with some colleagues. We were talking about a young researcher in our field who happens to be absurdly productive — typically publishing four or five important results each year. In other words, this is someone with a highly-developed impact instinct.
As you might expect from a group of assistant professors, we were interested in figuring out his secret.
The easy answer is that he's simply better than most people at solving hard problems. Perhaps where you or I might get stuck, he, in a flash of Good Will Hunting-style brilliance, taps the chalkboard four times and the proof is solved.
Some of my colleagues, however, have collaborated with this star researcher, and could therefore paint a more nuanced picture. He is quite talented, it turns out, but not at what you might expect…
According to my colleagues, this star researcher tends to begin with techniques, not problems. He first masters a technique that seems promising (and when I say "master," I mean it — he really goes deep in building his understanding). He then uses this new technique to seek out problems that were once hard but now yield easily. He's restless in this quest, often mastering several new techniques each year.
This sounds like an obvious approach, but it's not. Most researchers are slow to adopt new bodies of knowledge — mainly because it's really hard to do.
This star researcher, by contrast, is much more nimble — jumping from technique to technique, finding improvements and making connections.
What's amazing about him, therefore, is not his ability to solve problems, but his ability to master things that are damn hard, damn quick.
The Ultra-Learning Hypothesis
Here's something I've noticed more and more recently: this ultra-learning strategy is common in people who do remarkable things.
Richard Feynman, for example, used to brag about his ability to learn any topic in a short amount of time, a skill that led to one of modern science's most breathtakingly diverse and important bodies of work.
Steve Jobs spent his career diving deep into topic after topic in his field — industrial design, operating systems, 3D graphics — so that he could see clearly what was possible.
And so on.
I hypothesize two things. First, ultra-learning is difficult but it can be cultivated. Second, it might be one of the most important skills for consistently generating impact. Those who are able and willing to continually master hard new knowledge and techniques are playing on a different field than those who are wary of anything that can't be picked up from a blog post. (And yes, I recognize the irony of that statement.)
Both of these hypotheses might prove false. But what's true is that they're both deserving of more exploration.