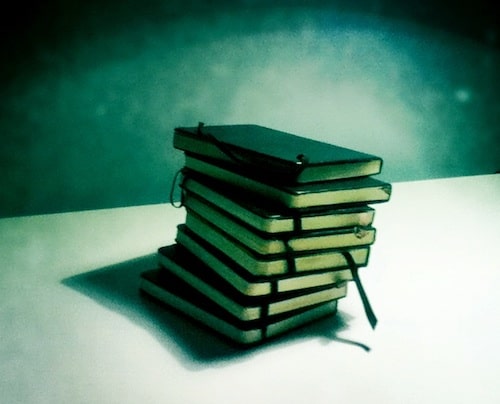 An Idea About Ideas
A graduate student recently sent me a note asking how I keep track of potential projects in my academic work. This got me thinking, and after some consideration I decided I had two answers.
The first answer is literal…
Since September, 2004, I've always kept an idea notebook with me to capture spontaneous thoughts relevant to many different areas in my life, including potential professional projects. (The picture above is a sampling of my large collection of full idea books.) I try to review my current notebook every couple of months.
The second answer is more honest…
Keeping track of project ideas, in my experience, is usually a waste of time. I used to fear that if I didn't capture and review my sparks of brilliance I'd forget them and an opportunity for impact would be lost.
The reality, however, is that most people (myself included) have way more ideas for things to work on than they have time to work. Forgetting ideas is not your problem. Having too many ideas competing for your attention to execute any one well is a more pressing concern.
(This notion that ideas are cheap and execution valuable is not, of course, new: it's been circulating through Silicon Valley start-up circles for a while; c.f., here and here.)
But my dismissal of tracking project ideas is about more than the relative unimportance of ideas compared to execution. I argue that the refusal to implement a system for curating these ideas provides an active strategy for figuring out what to work on.
In more detail, in recent years I've found that a useful criteria for selecting an idea to deliberately attack (both in academia and my book writing) is that it won't leave me alone; it keeps coming back to my attention even though I'm not trying to remind myself about it.
This act of subconscious selection is not arbitrary. Indeed, there's a growing body of evidence that for certain types of decisions your unconscious mind is better at sifting through conflicting variables and reaching a sound decision than more systematic conscious thought.
This approach works well for me. I expose myself to lots of different ideas and I dabble in many of them (a conversation here, a few equations scratched out there, a commute dedicated to noodling an interesting theorem), all the while not worrying too much about capturing every potential concept in some convoluted Evernoted nonsense.
I don't mind if I forget moments of inspiration. The important piece is that I won't deeply commit myself to a project until the damn thing won't leave me alone.