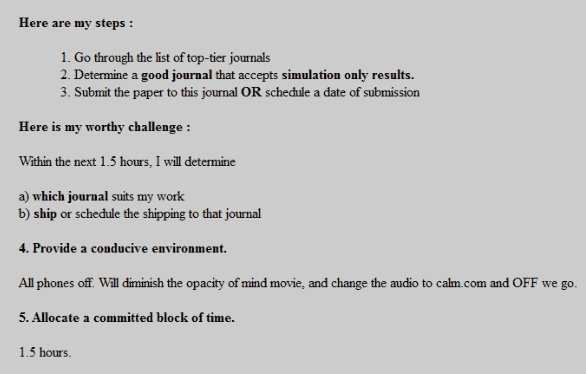 In Search of Depth
Aaron is a PhD student. This requires him to spend a significant fraction of his time thinking about hard things.
To accommodate the necessity of depth in his working life, Aaron developed a ritual he uses to quickly shift his brain into a state of concentration.
Here's how it works:
Aaron puts on headphones and plays non-distracting meditative music (this track is a favorite).
He launches FocusWriter, a stripped-down text editor that hides all the features of your computer (not unlike George R. R. Martin's use of Word Star).
He loads up a template that contains seven questions about the deep task he's about to begin. These questions force him to specify why the task is important and how he's going to tackle it (see the above screenshot of the template taken from one of Aaron's work sessions). The issues addressed in this template come from a classic Steve Pavlina post titled "7 Ways to Maximize Your Creative Output."
Getting through these steps takes around five minutes. As soon as Aaron's done typing in his final answer he turns immediately to the scheduled deep task.
The Results of Ritual
Here's how Aaron describes the impact of this ritual:
"Every time I have done this (well, nearly every time) I [entered] a deep thinking phase quite effortlessly. I think the reason why it works is that the barrier to entry is quite small (filling out the template) and the returns (clarity on session objective, momentum) are tangible."
Aaron (not his real name) sent me a note about these habits only recently, but the idea of a depth ritual is one that I'm encountering more frequently as I continue my research into the topic of deep work.
I don't know exactly why such rituals work but it doesn't surprise me that they do.
Achieving unbroken concentration is not like flossing — an action you can just choose to do — it's instead a mindset: and a non-natural one at that! To slip into a state of depth, we need all the help we can get.
The Need for Ritual
Which brings me to my own habits. I don't currently deploy a depth ritual, but I'm increasingly convinced that such a commitment would benefit me greatly.
Indeed, with this in mind, I experimentally deployed Aaron's specific set of steps before I wrote the blog post you're currently reading.
It's now exactly 29 minutes since I turned on my computer, and I'm now about to hit publish on this piece which I wrote, formatted (including imaging processing), and edited from scratch all during this single session.
For me, these results are, for lack of a better word, deeply impressive.