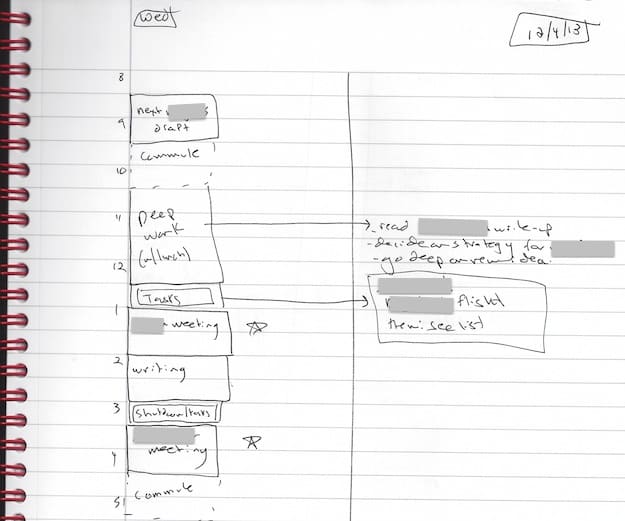 The Planning Pitfall
Daily plans are tricky.
As I've long maintained, if you don't give your time a job, it will dissipate in a fog of distracted tinkering. Simply having a to-do list isn't enough: you need to provide the executive center of your brain a more detailed target to lock onto.
There is, however, a pitfall with this productivity strategy that I stumble into time and again: it's easy to start associating "success" for your day with accomplishing your plan exactly as first envisioned, and to label any other outcome as a "failure" — a belief that triggers near constant frustration for most jobs.
The reality of daily scale productivity is that plans are not meant to be preserved. They're instead meant as a device for ensuring that you tackle your day with deliberation.
Of course your carefully partitioned time blocks will be disrupted (how can you possibly predict the many ways in which your schedule might fall apart in the Age of E-mail?).
After such disruptions, you simply need to form a new plan for the time that remains — preserving your deliberative mindset. But it's easy to cling to the idea that your original plan was somehow the best possible way for your day to unfold.
When I catch myself falling into this trap and despairing how far I've veered from some pristine but ultimately impossible ideal for my day, I've found it helpful to remember a simple heuristic: judge your day on how well your executed your productivity process, not the details of what you actually produced.