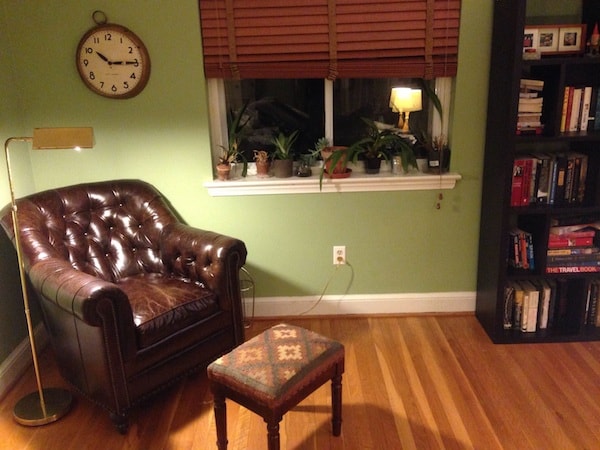 A Curious Observation
I've written enough books at this point to notice trends about the process. Case in point, while many stages of pulling together a book end up going slower than expected, there's one stage, in particular, that typically goes quicker: polishing the manuscript.
I have a theory for the phenomenon. When I polish a book manuscript, I always work with printouts and a pen (as I also advise, in Straight-A, for paper writing). Because this work doesn't need a computer, I tend to settle in somewhere conducive to concentration, like The Chair (above), and end up working with more focus for longer sessions than normal.
The magic ingredient, I suspect, is the analog nature of the process. A computer is a portal to near endless distraction. Because we use these machines for so much of our efforts, the staccato rhythm of broken concentration they generate begins to feel natural — as if this is the necessary experience of work.
All it takes, however, is a forced break from the digital — as I experience when polishing my books — to remember the levels of depth we're missing, and the satisfactions they can bring.
Inspired by this observation, I've found myself increasingly trying to carve out tasks that can be done free from a screen. I'm now more likely, for example, to venture to a library with only a notebook to work on a proof, or to leave my laptop in my bag at my office to dig into some paper reviews.
Analog work is underrated. Try it for yourself: you won't be disappointed.