Productivity Problems
Here's a typical scenario. Looking at your daily schedule, you see that you're entering a period of time that's not dedicated to deep work or a specific large shallow task.
This seems like a good opportunity to tackle some of the small tasks that accumulate in most knowledge work schedules (e.g., e-mails, planning, bills, looking up information, arranging meetings, filling out forms, etc).
Tackling these administrative blocks in an effective manner, however, can be elusive for most people — especially if you find yourself arriving at the office after a weekend, or a trip, or any other instance when an overwhelming number of obligations have been piling up, waiting to ambush you.
It's easy to start such blocks with a reasonable plan, such as "let me answer some e-mails." But this will soon generate many more new obligations than you can fit into your limited working memory at one time.
At this point, you might start lurching around, perhaps trying to knock off the new obligations as they arise (so you don't forget them), then giving up on this goal as futile, then seeing even more urgent messages, and having those generate even more things that you can't quite finish all at once, and then, the next thing you know, you look up after an hour of frenzied e-mailing and feel more overwhelmed than when you began!
Whew.
The solution to such scenarios, I will argue, is to augment your limited neuronal capacity with some digital help…
The WorkingMemory.txt File
A few years ago, I stumbled onto the strategy of using a simple plain text file to augment my working memory during attacks on my mounting obligations.
For obvious reasons, I named the file WorkingMemory.txt. Whenever I enter an administrative block, I open this file and place it next to my browser (see the screenshot above) so I can access it easily as I check my e-mail, review my calendar, or browse my task lists.
To understand the power of a simple text file in this scenario, let me walk you through a typical Monday morning administrative block from a few months ago…
The Initial Dump
The first thing I did in the block is simply dump in the WorkingMemory.txt file all the things I already knew I wanted to get done: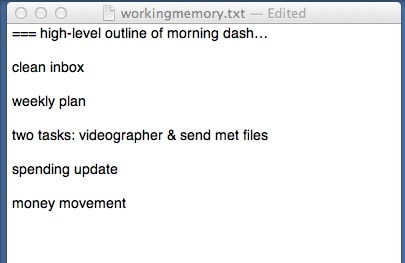 The first two items are what I always tackle at the beginning of the week, while the other three items just popped to mind as things that seemed time sensitive.
Capturing New Obligations
I then began reading and responding to e-mails — the first item on the list. As I dived deeper into my inbox, many new obligations were generated at a fast rate. I didn't have time to accomplish each new obligation as I encountered it, and (this is the important part) I didn't have nearly enough working memory in my brain to remember them all, so I jotted them all down in my trusty text file: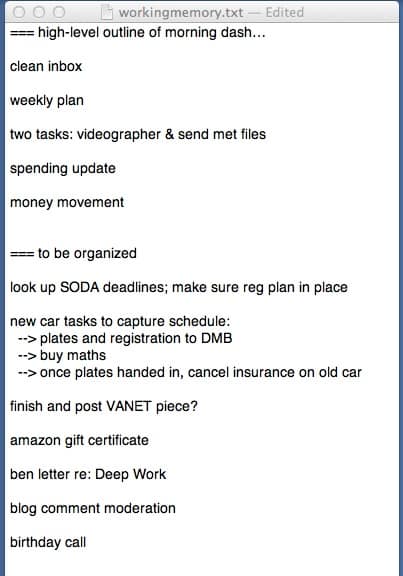 You might counter that I should have carefully processed each of these new obligations into a clear next action and then listed them under the appropriate contexts in my well-maintained tasks lists (as recommended by David Allen).
But I wasn't ready to put in that amount of effort yet.
At this point, I'm capturing things in a stream of conscious style as they pop up. I can figure out what they mean later: for now, I just want them captured in my digital memory so I can get through all the e-mails in my inbox quickly without worrying about forgetting things.
The Clarification
After I finished with my inbox, I was ready to make sense of what was now on my plate. It's at this point that I began to manipulate and clarify the information stored in my WorkingMemory.txt file: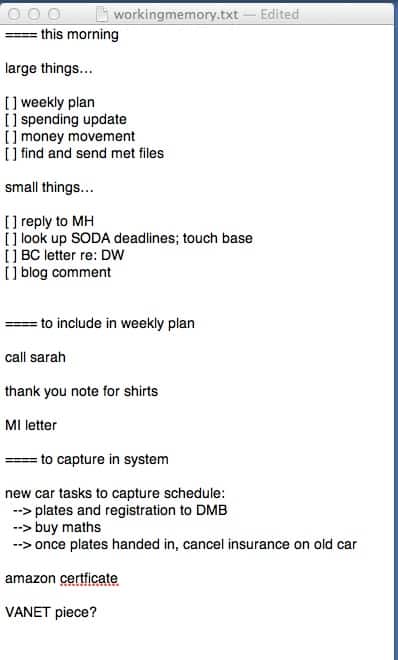 There are several things to notice here. The first is that I extracted a clear task list for the remainder of the morning dash, dividing the tasks between "large things" (more than 5 minutes) and "small things" (less than 5 minutes).
I also went through and organized the rest of the information dumped into the file. You can see, for example, that under "to capture in system" I have the full list of things that I need to transfer to my task lists for later treatment.
Notice, also, that under "to include in weekly plan" I have identified a subset of those items that I want to include in the weekly plan I'm going to construct as part of this morning dash (see the "large things" list).
At this point in my morning, my inbox is empty and my mind is 100% clear. Everything I need to do or know is captured and clarified in my WorkingMemory.txt file — allowing me to devote my full energy to executing.
Big Picture
A lot of the details of the above example were specific to my preferences and the demands of that particular morning. If you watched my WorkingMemory.txt file over a period of several weeks, you'd see a wide variety of creative uses.
But the general strategy behind this tool remains the same: use a simple text file to capture, organize, and ultimately clarify all relevant information during administrative blocks — leaving your brain free to execute.
It's amazing how much more efficient you become when you're not clogging up your brain's working memory with open loops and unresolved obligations.