Dispatch is a regular feature in which I meet with interesting people to learn interesting things about creating an interesting life.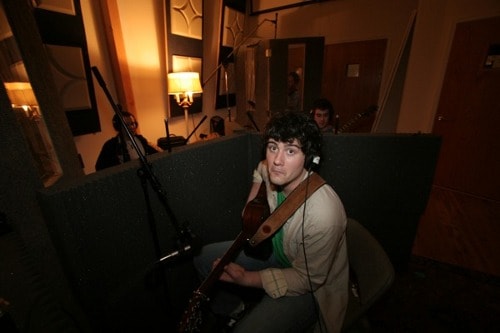 My Afternoon at the Bluegrass Frat House
Jordan Tice is 24. In the world of traditional work, this is young. Given that Tice recorded his first solo album while still in high school, however, it's clear that in the world of acoustic guitar he's no rookie.
This past weekend, I met up with Tice at the rambling Victorian he shares with a revolving set of fellow musicians. "Welcome to the bluegrass frat house", he greeted me.
As Study Hacks readers know, I'm fascinated by Steve Martin's advice to performers, "be so good they can't ignore you," as I suspect this axiom holds the key to a compelling life in almost any field. I was drawn to Tice because I wanted to better understand what it meant to live this ideal.
Here's what struck me about Tice: he's painfully modest.
At one point in our conversation, for example, he mentioned that while still in high school he began to tour with a well-known singer songwriter. "Jordan, this is a big deal," I pushed. "I'm sure he knew lots of great, professional guitar players, but he chose you: a 16-year-old."
Tice seemed uncomfortable at the implication that this was at all exceptional, and the conversation stuttered into silence.
As the afternoon continued, I began to realize that Tice's modesty is not a personality quirk; it is instead a trait that's shared by many serious songwriters. "Here's what I respect," he explained, "creating something meaningful and presenting it to the world."
To be arrogant is to assign value to yourself, whereas in the world of songwriting, the value is consolidated in the songs themselves.
There's something very Greek about Tice's modesty. When he explains his songwriting there's a piece of it that he sees as out of his control (he uses the phrase "bubbling to the surface" to describe how he discovers melodies). To be arrogant is to tempt the Muses into abandonment.
"There was this kid I knew at college, who posted a website, and it actually said something like: 'I'm a composer, educator, and visionary,'" Tice said. "I was like, 'dude, you're a fucking tool.' If you have to call yourself an artist, you don't know what it means to do it."
Notice the sharp contrast between Tice's mindset and the self-centered perspective most of us apply to our work. Driven by the passion hypothesis, we're terrified that we haven't found the exact right job. If we're not excited by every hour of every day, we start to question whether this is truly our "passion." When we're not immediately given great autonomy, creativity, and recognition in our work, we begin to deride our jobs as tolerably mediocre and start scheming a dramatic escape into an ill-conceived, one-man start-up.
Performers like Tice, by contrast, are happy to spend their afternoons in a small room in an overcrowded house, dedicating hour after hour to painstakingly improving their technique, all the while remaining ambivalent toward praise. They're content to let what they produce speak for itself — even if it takes a long time, and a lot of hard work, for their output to find a voice.
To ask Tice whether he's passionate about playing the guitar misses the point. Contentment in his world does not come from following passion, but instead in deploying it, day after day, in a quest to produce work so good it can't be ignored.
Lesson Learned: There seems to be something deeply satisfying about turning your focus from what the world can offer you and onto what you can offer the world. This craftsman mindset might provide an effective and meaningful alternative to the passion mindset (i.e., worrying whether a job is your true calling) when navigating your career.
(Photo from Jordan Tice)