The Grade Whisperer is a regular feature in which I use the Study Hacks philosophy of doing less and doing better to help students solve academic problems.
Warren's Missing Aspiration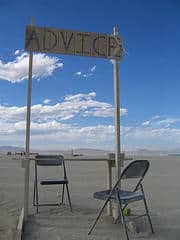 Recently I heard from a college student named Warren. "I'm conjuring up a few ideas for grand projects after reading about them in your yellow book," he said. "The thing is, I don't really have any heartfelt aspirations. I don't know what to do with my life yet."
As fans of the yellow book know, I advise college students to embrace a "grand project," my terminology for a project that, when described, makes people say "wow!" These projects help inject motivation and spontaneity into a student life that is otherwise heavily prescribed. They also tend to make you really impressive to the outside world.
Warren's response to this advice is common: How do you launch a grand project if you don't have a grand passion?
Here's how I replied:
I don't believe that there's some magical right pursuit waiting for you to discover.
Choose something that seems reasonably interesting and really go after it. Keep exceeding people's expectations.
Over time, this will grow into something meaningful in your life. (See my article about getting into Harvard by doing less for more details on this idea.)
It will also lead you in completely unexpected and fascinating directions. (See my article on getting into Stanford with a B on your transcript for more details on this idea.)
It turns out, for example, that Warren has written some screenplays. That's as good a starting place for a grand project as any. He should consider, I advised, applying the pyramid method to his writing: i.e., pick a venue that will give clear feedback on his work, and then focus on this venue until his work is unabashedly great. There has to be a student contest, or something similar, where he could put the method into practice with his writing.
Above all, remember that for most students: Passion follows impressive accomplishment; not the other way around.