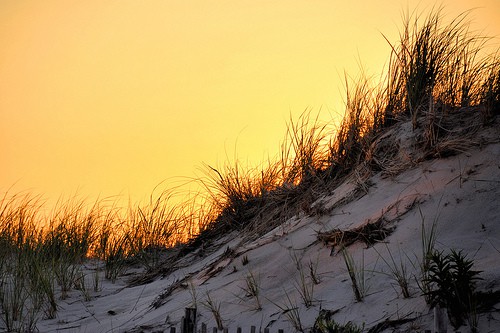 The Dune Revelation
In July 2009, I took a trip to San Francisco. At some point, I ended up hiking at a sand-duned nature preserve, not far south from Monterey on Highway 1.
What I remember about this hike is a thought that struck not long into the route. In the summer of 2009, I was two months from defending my PhD dissertation. I had arranged for a post doc after graduation but found the academic market beyond to be uncertain for me and my skills. It was in this context that I had my insight:
Why hadn't I systematically studied the most successful senior grad students when I first arrived at MIT?
Every year, a small number of computer science students at MIT easily generate multiple job offers while the rest have to sweat the process. What do these students do differently from the others? It's a basic question and yet almost no one arriving in Cambridge seeks an answer. We instead carve out our paths blindly, sticking our heads up only at the end to see if we've stumbled anywhere near our destination.
I ended up fine, landing a great tenure track position at Georgetown, but the 2009 version of myself did not have this certainty, and my failure to more systematically plan for my arrival on this market suddenly seemed a glaring omission.
The $100 Startup
This 2009 experience came back to me earlier this week as I read an advance copy of Chris Guillebeau's new book: The $100 Startup. In this book, Chris tackles a topic made popular by Tim Ferris: how to build a lifestyle business in a digital age.
Lots of people are enamored by the idea of having a business that requires little investment and yet supports you financially while injecting flexibility into your life.
What sets Chris's book apart, however, is that he was not content inventing a bullet-point system that simply sounds good. He instead systematically studied people who had actually made these types of businesses work. He started with a survey of 1500 such entrepreneurs which he then narrowed down to 100-200 that he interviewed in more detail. He lists them by name in his appendix.
The result is often messier than the internally-consistent, inspiration-boosting acronmyized systems of competing books and blogs, but the advice come across with an authenticity that's rare for this topic.
Put another way: Chris did with his interest in lifestyle businesses what I should have done as a grad student with my interest in becoming a professor. The only plan he was interested in was a plan grounded in reality.
The Big Question
I'm telling these stories because they inspire an important question: Why do so few people do what Chris did? Most of us are content, it seems, to work hard and build complicated systems, but we avoid basing our efforts on a reality-based assessment of what really matters.
And I think I finally have an explanation…
The Pseudo-Striving Hypothesis
Why do so many ambitious people approach their quest for remarkability in the way I approached grad school, and not in the way Chris Guillebeau approached lifestyle entrepreneurship? Here's my tentative explanation:
The Pseudo-Striving Hypothesis
It's significantly more pleasant to pursue a goal with a plan entirely of our own construction, then to use a plan based on a systematic study of what actually works. The former allows us to pseudo-strive, experiencing the  fulfillment of busyness and complex planning while avoiding any of the uncomfortable, deliberate, often harsh difficulties that populate plans of the latter type.
For example…
For the aspiring writer, embracing National Novel Writing Month is pseudo-striving. It feels good to sit down every morning and throw a few hundred words on a page. But the reality of writing would tell you that getting your fiction chops to a publishable level requires the training that comes only in the form of writing for someone else — be it an MFA classroom or edited publication. You need the fear of rejection to push your writing skills. Then you still need to experience that rejection time and again during the period where your skills are just starting to improve. It's much easier to sit on your deck with your MacBook and a cup of coffee and applaud yourself for your dedication.
For the aspiring grad student, seeking research ideas that fall comfortably within the scope of what you already know how to do, and then trying to convince other people that your work is important, is pseudo-striving. Reflecting on my experience, I notice now that academia is much more likely to reward the strategy of spending the 12 – 24 months of deliberate practice necessary to master an important emerging field. This is really hard. But those who persist end up doing work with impact.
For the aspiring lifestyle designer, dedicating hours to e-mail auto-responders, WordPress widgets, and social network engineering is also pseduo-striving. It gives you lots to do, nothing is really judged a success or failure, and nothing is really hard, but you feel engaged and active. It's quite pleasent. Many of the successful entrepreneurs from Chris's book, by contrast, had a reality-based fixation on actually making real money from real people before doing anything else (be it leaving their job or optimizing a web site). This is less pleasant, because you might fail time and again to convince people to give you their money, but ultimately it's all that matters, so that's where your initial energy should be focused.
Conclusion
When it comes to constructing a remarkable life, I'm increasingly convinced that pseudo-striving is a common trap with devastating consequences. It lulls you into a rhythm of busyness and complexity that might have very little to do with real accomplishment.
I'm not sure why our instincts lead us to flee reality-based planned, but they do. The more explicitly we recognize the difference between pseudo-striving and the messy difficulty of real world accomplishment, the better, I hope, we can refocus our efforts onto what matters.
(Photo by rooksbane)