College Woes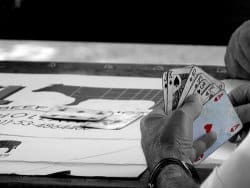 A Swarthmore student recently clued me into an interesting fact about life at this competitive school:
The whole predominant atmosphere here is stress, stress, and more stress. We even have a term called misery poker.
Naturally, I asked her for an explanation. She responded with the following sample dialog:
"I have two midterms, a 10 page paper, and I'm headed to a conference next weekend," says the stressed student

"Oh yeah?," replies his bleary-eyed friend. "I'll raise you all that, and add a lab report"
The winner is the student whose life sucks the most.
Leena Weighs In
This sounded familar. Among MIT undergraduates, misery poker seems to be the standard method for communicating.
But here's my question: why?
Why do students — especially those at elite institutions — gravitate toward self-pity and mild masochism? Is it a self-defense mechanism? Is it a way of bonding?
Curious, I asked our friend Leena — no stranger to misery poker — for her thoughts.
"I've discovered that at challenging schools, the culture goes one of two ways," she replied.
"Some students want to give you the impression of effortless brilliance. For example, Stanford's Duck metaphor where they're all like, 'I never work! I always play frisbee and still do better than you on everything!'."
(ed: the origin of the "duck" term is that students try to look calm on the surface while their feet are paddling furiously under the water.)
"The other approach — the MIT approach — is to give the impression that they work harder than you do. For example, 'I have a UROP and am an officer for three clubs and am doing a double major in two notoriously difficult majors!'"
"Intimidation is key, because you've got to do something to feel better about yourself."
[The sound of Cal sighing loudly.]
Beyond the Pain
Does this sound familar? Do you play misery poker? Are you a certified duck?
If so, I give you official permission to stop. Right now. If you want to feel better about yourself, get a girlfriend. If you want to intimidate people, grow a creepy beard. (Trust me.) Using your day to day happiness as a bargaining chip is not a sustainable strategy.
Here's what you should do instead…
Build a realistic schedule. Leave time for exposing yourself to randomness. Focus on kicking the crap out of a small number of classes you like, not struggling to stay afloat through a triple major's worth of misery. Take one activity — not 10 — and push it somewhere innovative. Be a good friend.
You've heard this all before from me. But having these recent conversations, I thought it's worth repeating. As many times as it takes for it to sink in.
What's your experience? Are your classmates poker players or ducks? Is there another degenerate work culture I'm missing here?
(Photo by Boa-sorte&Careca)