Notes from a Novelist's Life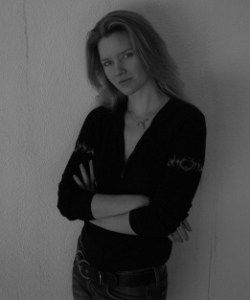 Justine Musk is the author of three novels with a fourth on its way. She specializes in dark fantasy and the supernatural, and has written for both adult and young adult audiences. She lives the standard writer-fantasy: making a living crafting titles dealing with subjects that fascinate her.
I'm bringing Justine to your attention because she recently published a pair of insightful blog posts that dissect her journey into professional writing. This story is relevant to our mission here, as the goal of becoming a popular writer can be a stand-in for almost any quest to "become so good they can't ignore you." And as I've argued again and again, it's this building of an outstanding ability — not the display of raw diligence — that ultimately generates remarkable lives.
I will leave the task of fully ingesting Justine's posts to you. But I wanted to first mention a few key observations:
She invested a staggering amount of practice.
Justine wrote ten novels or novellas before selling her first.
Her practice was deliberate.
For half of these failed novels she sought out agent representation, and even succeeded with some, only to receive rejections from the subsequent publishing house submissions. In these cases, she actively solicited feedback that she then used in her next projects. She also maintained both writing partners and mentors. In other words, hard work, in isolation, was irrelevant to her journey. It was the realization that she had a long way to go, combined with a quest for feedback to push her along that path, that made it work.
She was obsessively focused.
"The art of any art is the art of obsession," she said. "This is not something that people in general tend to understand. They encourage you to be well-rounded, which bemuses me in a society that tends to reward the specialists – the obsessives – those who decided to excel at one thing instead of becoming good at a hundred or competent at a thousand."
To borrow Justine's wording, it bemuses me that so many of my peers want what she has — a remarkable life fueled by an ability to do something interesting that people value — yet ignore almost everything important about her path to this end. They focus, instead, on proving their diligence with double or triple majors and meaningless pile-ups of extracurriculars, or tread water in what Justine calls a "gray area," convincing themselves that they too could be remarkable if they only just applied themselves, spending their time day dreaming about defying the status quo, as if courage was the key to occupational reward, not the decidedly less sexy task of becoming excellent at something valuable.
If you're suffering from what Justine describes as "lightning-strikes of yearning ripping through the different chambers of [your] heart," take the time to read her posts in detail. They will help you better understand the subtle art of becoming remarkable.