Note: I'm giving a talk at Dartmouth on Wednesday, October 28. If you're a Dartmouth student and are interested in meeting me, send me an e-mail. I might arrange a slot in my schedule for a group of us to get together and talk shop.
E-mail Wizard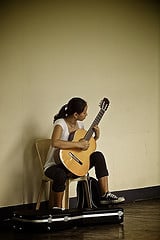 I don't waste much time with e-mail. I typically check my inboxes two, maybe three times a day, and always process them back to empty.
(An exception to this rule are the copious e-mails from blog readers, which are shunted to their own inbox and which I work on once a day, in a pre-scheduled 30 minute slot that keeps my fixed-schedule intact.)
It's a well-oiled, efficient machine, that keeps me connected to the world but also maximizes the hours I can spend in a state of hard focus.
There are three important points about this system that I want to draw your attention toward:
It's simple to understand and provides obvious benefits.
Many people would love to do something similar.
Few of them actually do.
It's the contradiction of point 3 that motivates today's post…
The Hidden Art of Practice
If you know how to do something, it's easy to do, and it would make your life better, why wouldn't you? This paradox confronts me every day when reviewing reader e-mails: Students know that certain advice — be it following an autopilot schedule or stopping pseudowork — would improve their life, but they just can't stick with it.
Why does this paradox exist?
When I told you above about my experience with e-mail, I left out an important piece of the story: it took years of practice to get to this efficient state.
Today, I'm good at ignoring my inbox in the same way that your roommate can play Tears in Heaven on his guitar. It's not that we're special — we simply practiced.
Unfortunately, this omission plagues this blog. In almost every piece of advice I've described, I've failed to tack on the crucial caveat that regardless of how simple my suggestion, it's still going to take practice to make it a reliable part of your life.
I want you to keep this idea in mind when you grapple with the Study Hacks canon. Don't decide to adopt a strategy. Instead, decide to practice adopting the strategy until it sticks.
I know this is less exciting than the idea that an afternoon in my archives can make tomorrow's midterm a breeze. But I hope that in the long run, this mindset significantly improves your success.
(Photo by jonicdao)