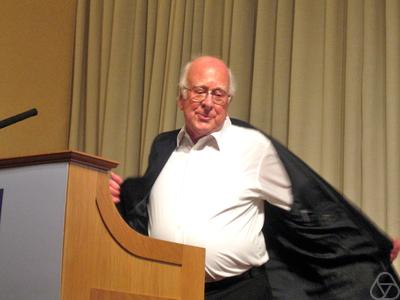 The Elusive Dr. Higgs
This past October, the theoretical physicist Peter Higgs won the Nobel Prize for his work predicting the particle that bears his name. The only problem: no one could find him.
Peter Higgs, it turns out, is not interested in being accessible. He has no e-mail address because he owns no computer. He does own a cellphone, but he only answers it if he knows the caller.
It's easy to imagine Higgs as a recluse, but as The Guardian reported in its Nobel coverage, he's actually quite busy. It's just that his definition of "busy" doesn't include an inbox.
I like these types of stories. They're not useful as a direct source of advice (most of us probably need to keep our computers). But they do provide a nice reminder about the type of work that ends up changing the way we understand the world.
(Image by Gert-Martin Greuel via Wiki Commons)