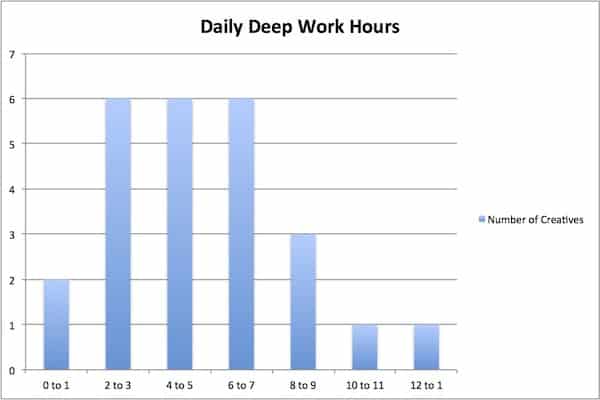 Daily Depth
I recently got my hands on a copy of Mason Currey's new book, Daily Rituals. For the past six years, Currey ran a blog called Daily Routines that scoured interviews and biographic material to identify the work habits of famous creatives. His new book runs with that idea, summarizing the habits of 161 notables.
Being a geek, I decided to quantify some of Currey's insights. The first thing I did was read through the first 25 profiles, estimating the number of hours per day each subject spent working deeply.
The average number of deep work hours turned out to be 5.25. (See the above histogram for the full distribution.)
These results provide a powerful counterpoint to most narratives on creative work, which tend to focus on overcoming "The Resistance" or the "naysayer within" (to quote Steven Pressfield). The reason most aspiring creatives fail, these numbers instead hint, is not due to an "internal foe" but because five hours of daily deep work is absurdly difficult!